Four players who participated in the Bears rookie minicamp on a tryout basis over the weekend have earned an opportunity to remain with the team.
The Bears on Monday signed receiver Demetrius Fields and defensive tackles Corvey Irvin and Christian Tupou, and agreed to terms with cornerback Maurice Jones. Fields and Jones are undrafted rookies, Irvin has limited NFL experience, and Tupou went undrafted in 2012.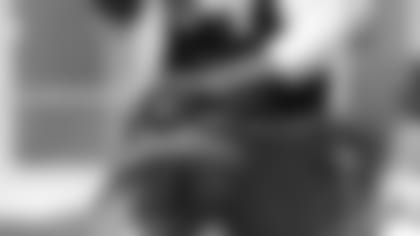 Demetrius Fields runs with the ball during Sunday's rookie minicamp practice.
To make room on their roster, the Bears released linebacker Dom DeCicco and cornerback LeQuan Lewis.

Fields appeared in 52 games with 36 starts over four seasons at Northwestern, catching 114 passes for 1,203 yards and seven touchdowns. The 6-foot, 210-pounder increased his reception total each of the last three years from 24 to 25 to 32 to 33.

As a fifth-year senior in 2012, Fields won the Carnig Minasian Citizenship Award, which is presented to a Northwestern player who has been an outstanding citizen on campus, in the community, in practice and on the field.

Jones played in 46 games with 12 starts over four seasons at Temple, recording 105 tackles, six tackles-for-loss, one interception and six pass breakups. He also played on the kickoff, punt coverage, punt return and field goal block units.

"I'm blessed and I feel grateful to get an opportunity," Jones said. "A lot of people who were here [for rookie minicamp] didn't get the opportunity, so I'm just grateful to have my foot in the door."

Irvin has appeared in 18 NFL games over the past three seasons with the Panthers (2010), Jaguars (2011) and Buccaneers (2012), recording 11 tackles. He played 12 games last season for Tampa Bay. Irvin was selected by Carolina in the third round of the 2009 NFL Draft out of Georgia.

"When you have an opportunity you really have to take advantage of it, and that's by doing what the coaches ask you, working hard, being dedicated and giving it your all," Irvin said. "When you're blessed with an opportunity, you really have to be a pro and take care of your business."

Asked what he wanted to show Bears coaches over the weekend, Irvin said: "That I can compete with the best of them; that I can really play. God gave me this ability for a reason and I have to showcase it. I'm excited to be part of a great organization with a lot of tradition and great players."

Tupou appeared in 41 games with 32 starts over four seasons at USC, recording 53 tackles and seven tackles-for-loss. After starting in 2008-09, he missed the 2010 campaign with a torn ACL he sustained in a spring workout before returning in 2011 to reclaim his job.