The Bears on Sunday agreed to terms with linebacker James Anderson on a one-year contract.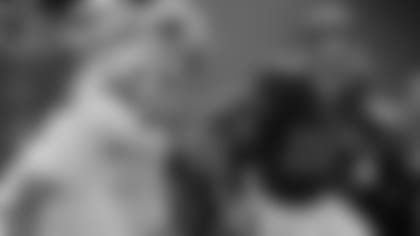 Linebacker James Anderson chases Bears running back Matt Forte during a game at Soldier Field.
The 6-2, 235-pounder spent his first seven seasons with the Panthers after being selected by Carolina in the third round of the 2006 NFL Draft out of Virginia Tech.

Anderson appeared in 94 games with 53 starts for the Panthers, recording 432 tackles, eight sacks, seven fumble recoveries, five forced fumbles, three interceptions and 20 pass breakups. He started 44 games at strongside linebacker, eight at weakside and one in the middle.

Anderson was a regular starter each of the past three seasons. His 94 games played are the most by a linebacker in Panthers history. On Sept. 20, 2012, he set a Carolina single-game record with 20 tackles in a loss to the New York Giants.

The Bears have signed a free agent each of the past five days with Anderson following defensive end Turk McBride (March 20), tight end Steve Maneri (March 21), linebacker D.J. Williams (March 22) and safety Tom Zbikowski (March 23).

The Bears made an immediate splash on the first day of free agency, landing left tackle Jermon Bushrod and tight end Martellus Bennett March 12.