The Bears on Sunday agreed to terms with nine undrafted free agents, including former Northern Illinois quarterback Jordan Lynch, who finished third in Heisman Trophy balloting last season.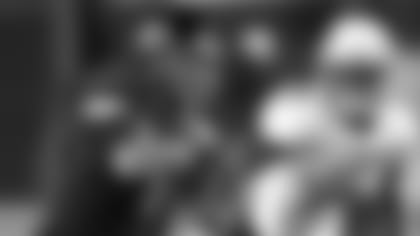 Jordan Lynch rushed for an FBS-record 321 yards last season against Western Michigan.
The rest of the group consists of defensive tackles Brandon Dunn (Louisville) and Lee Pegues (East Carolina), guards Ryan Groy (Wisconsin) and James Dunbar (TCU), tackle Cody Booth (Temple), and linebackers Tana Patrick (Alabama), Christian Jones (Florida State) and Devekeyan Lattimore (South Florida).

The Bears are listing Lynch as a running back. Playing quarterback at Northern Illinois, the 6-foot, 217-pounder rushed for 1,815 yards and 19 touchdowns in 2012 and 1,920 yards and 23 TDs last season. Lynch was named MAC offensive player of the year in 2013 after becoming the first player in FBS history to rush for more than 1,500 yards and pass for over 3,000 yards in a season.

"He's a really fine runner," said general manager Phil Emery. "The fact that he can throw with accuracy in a short area is good too. You want as many athletes who can do as many things as possible and he certainly presents options that way."

Emery attended the Northern Illinois-Western Michigan game last season when Lynch rushed for 321 yards, an FBS record for a quarterback.

"He's got a great set of eyes," Emery said. "He's very instinctive, especially for a quarterback between the tackles. He just knows where to find the soft spots and take that little sidestep and keep moving forward while he's making his moves. He's got really good contact balance. He doesn't go down easy. I like all those things."