On the first day of free agency Tuesday, the Bears bolstered their secondary by agreeing to terms with safety Ryan Mundy on a two-year contract.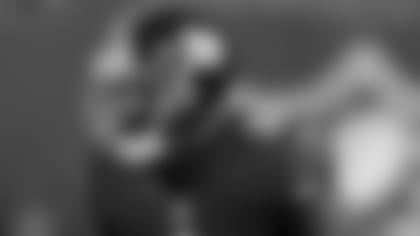 Ryan Mundy

The 6-1, 215-pounder has appeared in 80 games with 14 starts over five seasons with the Pittsburgh Steelers (2009-12) and New York Giants (2013), registering 143 tackles, two interceptions, 10 passes defensed, three fumble recoveries, five tackles-for-loss and one sack.

Mundy has added 64 special-teams tackles, tied for third most in the NFL since he entered the league in 2009.


"The Bears are one of the upper echelon NFL franchises," Mundy told ChicagoBears.com. "I'm excited about the opportunity to come in and bring value to their organization on and off the field and hopefully get some wins under our belt and make a run at a championship."

Mundy was selected by the Steelers in the sixth round of the 2008 NFL Draft out of West Virginia. He had played his first three college seasons at Michigan before transferring to West Virginia.

Primarily a reserve during his four seasons with the Steelers, Mundy started 10 of 16 games played with the Giants last year, establishing career highs with 70 tackles and four tackles-for-loss while also recording two pass breakups and one fumble recovery.

Mundy joins a defense that struggled in 2013, when the Bears allowed the most points (445), total yards (6,313) and rushing yards (2,583) in franchise history.

"It's a great opportunity," Mundy said. "I know that they're looking to revamp the defense and getting back on track, and they feel like I can help them do that. So it's a very exciting time for me because they believe that I can help them pursue a championship, and at the end of the day, that's what it's all about."

Mundy should know; he won a Super Bowl ring with the Steelers as a member of their practice squad in 2008. Asked what type of safety Bears fans are getting, he said: "I'm a physical player. I bring a physical presence whenever I step on the field. I don't shy away from contact; I embrace it.

"I'm a very smart player. I rarely make mistakes from a schematic standpoint and I like to communicate; make sure that everybody's on the same page.

"Those are traits that I got from my time playing in Pittsburgh when I backed up Ryan Clark and Troy Polamalu for five years. They really laid a great foundation for me and helped me become a pro and play the safety position at a high level."

Mundy was born and raised in Pittsburgh, but he always admired the Bears and their history.

"Growing up as a kid, I used to watch a lot of old NFL Films and see guys like Walter Payton, Dick Butkus and Gale Sayers," Mundy said. "It was always an intriguing thing like, 'Man, I want to play for the Bears.' I used to love watching that stuff on tape. Instead of going outside and playing some days, I would go watch those VHS tapes."