The Bears agreed to terms with a free agent for the sixth straight day Monday, but this time it was one of their own in veteran offensive tackle Jonathan Scott.
The 6-6, 318-pounder appeared in 12 games with seven starts last year after signing with the Bears on Sept. 10, one day after the regular-season opener. Scott started five of the final six games at right tackle after supplanting Gabe Carimi.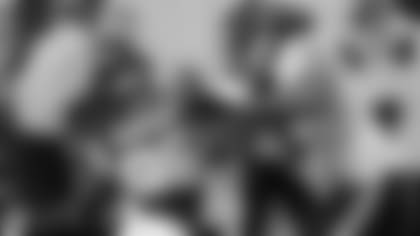 Tackle Jonathan Scott blocks Vikings defensive end Brian Robison last season in the Metrodome.
"It's a great opportunity to continue my own personal legacy, and then on top of that work with a group of men that have the same common goal, and that's winning the Lombardi Trophy," said Scott, who agreed to a one-year deal. "I definitely kept a good rapport with the whole organization, so I'm just excited in every aspect."

The Bears have been busy since free agency started March 12, signing left tackle Jermon Bushrod (March 12), tight end Martellus Bennett (March 12), defensive end Turk McBride (March 20), tight end Steve Maneri (March 21), linebacker D.J. Williams (March 22), safety Tom Zbikowski (March 23) and linebacker James Anderson (March 24) before re-signing Scott.

"I had some different options when it came to choosing, but the thing that really excited me the most here is the new people coming in," Scott said. "The people that they acquired in free agency mesh well with the coaching staff, so I feel a good thing is about to happen. I want to be a part of greatness. That's just kind of my whole philosophy and mindset."

Prior to joining the Bears, Scott started 28 of 58 games played in six seasons with the Lions (2006-07), Bills (2009) and Steelers (2010-11). He was selected by Detroit in the fifth round of the 2006 draft out of Texas.

Returning to the Bears, Scott is especially eager to work with new head coach Marc Trestman and offensive coordinator/line coach Aaron Kromer.

"Our defense has always played at a high level and now we'll have that knockout punch with this offense," Scott said. "I'm excited because I think some great things are about to happen, but of course we've got to work to get better and do the necessary things to achieve that."

With Bushrod brought in to anchor the line at left tackle, Scott will likely be in the mix for the starting right tackle job as well as the third swing tackle position.

"I've always been in a situation where I've got to fight to prove my worth," Scott said. "I'm more than willing to accept that role because that's who I am as a person, so it's all good."