The Bears on Thursday retained a key member of their offense, agreeing to a one-year contract with veteran lineman Eben Britton.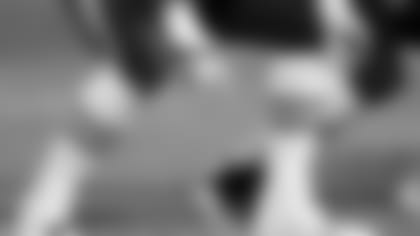 Eben Britton
Utilized primarily as a sixth lineman last year, the 6-6, 308-pounder appeared in 13 games with four starts. Britton also played most of the season finale at right tackle against the Green Bay Packers after rookie Jordan Mills exited with a foot injury.
"I'm really excited to be back with the Bears," Britton told ChicagoBears.com. "After last season it was really the only way I hoped free agency would go. I'm just really excited to get back to work and back with the guys. My family is really happy and excited. They love Chicago and love the Bears. Last year was a great experience for us and we're really happy to be coming back."
Britton, 26, was part of a Bears offense in 2013 that set single-season franchise records for total yards, passing yards, passing touchdowns, completion percentage, passer rating and first downs.
"That was a huge part of my mentality moving forward, just being a part of such an awesome offense with a great group of guys," Britton said. "Everybody wants to be great and everybody wants the offense to be great. That was a big part of why I wanted to come back; to continue to build on that and see where we can go from there."
Britton is the 29th player the Bears have signed since the final week of the 2013 season. The group is comprised of 17 returning Bears players, nine unrestricted free agents and three street free agents.
"Eben was an invaluable blocker in the running game as well as protecting the quarterback," said offensive coordinator Aaron Kromer. "He has a an infectious attitude of enthusiasm. We are excited to have him back."
Britton originally signed with the Bears last April after spending his first four NFL seasons with the Jacksonville Jaguars, appearing in 38 games with 30 starts after arriving in 2009 as a second-round draft pick out of Arizona.
With the Jaguars, the versatile Britton started 23 games at right tackle and seven at left guard. In 2012, he started five of 11 games played, all at left guard.