If the Bears move this fast on the field, they could have a very memorable 2013 season.
For the second straight day Thursday, the team agreed to four-year contracts with two of its draft picks, fourth-round linebacker Khaseem Greene and seventh-round receiver Marquess Wilson.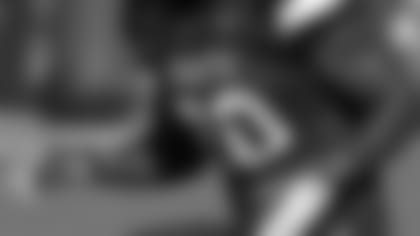 Rutgers linebacker Khaseem Greene played for the North squad in the Senior Bowl.

On Wednesday, the Bears reached agreements with fifth-round offensive tackle Jordan Mills and sixth-round defensive end Cornelius Washington. Their only remaining unsigned picks are first-round guard Kyle Long and second-round linebacker Jon Bostic.

The four Bears rookies are the only NFL draft picks to reach contract agreements.

Greene, who was selected 117th overall, set an NCAA record with 15 forced fumbles in four seasons at Rutgers. After starting all 13 games at safety in 2010, he switched to weakside linebacker and was named Big East defensive player of the year each of the past two seasons.

"What an amazing story," general manager Phil Emery said last Saturday after the draft. "Here's a guy who played strong safety. He was moved to linebacker by [then Rutgers coach] Greg Schiano, who's always trying to move the better athletes up to create more team speed, and what a response; two-time conference player of the year in his only two years in football at linebacker."

Greene started 39 of 51 games played at Rutgers, recording 387 tackles, 32.5 tackles-for-loss and 11.5 sacks. He hit it off with Mel Tucker during a pre-draft visit to Halas Hall and is eager to begin working with the Bears' new defensive coordinator.

"Honestly, I love him," Greene said last weekend after being drafted. "I'm excited to get down there and work for him. I'm coming into a great situation at basically the NFL equivalent of 'Linebacker U.' I'm just extremely happy and excited to be in this position, to come into such a great organization and be able to compete."

Wilson was a big-play receiver for three seasons at Washington State, catching 189 passes for a school-record 3,207 yards and 23 touchdowns. The 6-3, 194-pounder also set school records with 14 100-yard receiving games and four 150-yard receiving games.

Wilson left the Cougars football team midway through last season after accusing head coach Mike Leach of abuse. He reportedly walked out of practice, earning a one-game suspension, and never returned to the team. As you'd expect, the Bears did what Emery described as "a tremendous amount of work" researching the situation and the 20-year-old's character.

"We felt at that point in the draft that a person of this kind of talent deserved a second chance," Emery said after the draft "His biggest sin is he walked out. He made a young decision. He's just 20. We felt very comfortable that this was a good person who made an immature decision. He's owned up to that decision. He's ready to roll. We're very excited he's with the Chicago Bears."

Wilson blossomed as a sophomore in 2011, establishing career highs with 82 receptions for 1,388 yards and 12 TDs. He led Washington State in receiving last year with 52 catches for 813 yards and five TDs despite playing in only nine games with seven starts.