The Bears on Wednesday agreed to terms with first-round draft pick Kyle Fuller, a cornerback from Virginia Tech, on a four-year contract with a fifth-year option.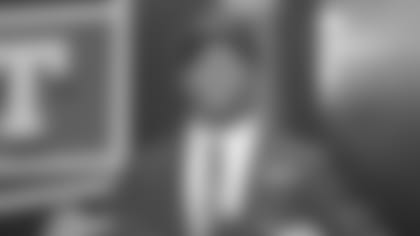 Kyle Fuller was selected by the Bears with the 14th pick in the first round of the NFL Draft.
A productive four-year starter for the Hokies, Fuller recorded 173 tackles, six interceptions, 23.5 tackles-for-loss, 26 pass breakups and 4.5 sacks while appearing in 50 games with 42 starts. The 6-foot, 190-pounder is a physical tackler who provides versatility in coverage and solid run support.
"This is one tough football player," general manager Phil Emery said after the Bears selected Fuller last Thursday night with the 14th pick in the draft. "This is a player with length, skill, athleticism, versatility, productivity, and beyond that the better part of him is he's even a great person."
Fuller blossomed as a sophomore in 2011, recording 65 tackles, seven pass breakups, two interceptions, a team-high 14.5 tackles-for-loss and 4.5 sacks while also recovering a blocked punt in the end zone for a touchdown against Appalachian State.
As a senior in 2013, Fuller was named first-team All-ACC from the league's coaches despite missing four games with a groin injury that required surgery. Appearing in nine contests with eight starts, he registered 24 tackles, two interceptions and 10 pass breakups.
The Bears had Fuller ranked as the top cornerback in the draft and one of the best special teams players. He excelled in that aspect of the game at Virginia Tech, blocking three kicks.
The Bears have now reached contract agreements with seven of their eight draft picks. They came to terms on four-year deals with fourth-round safety Brock Vereen and sixth-round quarterback David Fales on Monday, and second-round defensive tackle Ego Ferguson, fourth-round running back Ka'Deem Carey, sixth-round punter Pat O'Donnell and seventh-round tackle Charles Leno Jr. on Tuesday. The only pick who remains unsigned is third-round defensive tackle Will Sutton.