The Bears on Friday agreed to terms with first-round pick Kyle Long on a four-year contract with a fifth-year option and now have their entire 2013 draft class under contract.
Long, who was selected with the 20th overall pick out of Oregon, will begin his career as a guard. But the Bears feel that the 6-6, 313-pounder also has the ability to eventually play tackle.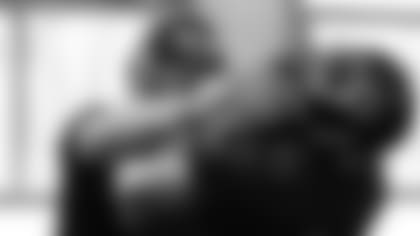 Kyle Long (left) works on his blocking skills last weekend at rookie minicamp.
"Kyle is a very good football player," general manager Phil Emery said after the draft. "He is the type of athlete and player that we have targeted; a fast, tough, dynamic athlete, a productive athlete."

Long traveled a unique road to the NFL. He was selected by the White Sox in the 2008 Major League Baseball draft out of high school, but opted to accept a scholarship to pitch at Florida State.

Long, however, left Florida State without appearing in a baseball game due to poor grades and off-the-field issues. He resumed his football career in 2010 at Saddleback Community College in California, where he initially played defensive end before moving to the offensive line in 2011. In his only season at Oregon last year, Long appeared in 11 games with five starts at left guard.

The 24-year-old is the son of Pro Football Hall of Fame defensive end Howie Long and the brother of St. Louis Rams defensive end Chris Long, the No. 2 pick in the 2008 draft.

Emery revealed that the Bears compute an "athletic index score" that measures the athleticism of all draft prospects and Long recorded the highest score ever by a guard.

"He's the No. 1 guard in the last 12 draft classes, and that's as far back as we go," Emery said. "He rates as rare. That's his rating. In our scale, nine is rare and he rates as rare."

Long was on hand for last weekend's rookie minicamp, but he will miss the rest of the Bears' offseason program due to an NFL rule that prevents rookies from participating in workouts until their college class graduates.

Long will continue working with longtime NFL offensive line coach Tony Wise, who helped him prepare for the Senior Bowl, and will remain in constant contact with the Bears.

"Anytime you've got to deal with a certain issue, you've got to embrace it and I think we will as a staff and Kyle will," coach Marc Trestman said last weekend. "We've got a lot of different ways of communicating with him. There are webinars out there. We can show tape to him and sit in a meeting with him and watch tape with him right on a computer. We've got all the technology to do that."

Before locking up Long, the Bears had already signed their five other draft picks: Second-round linebacker Jon Bostic, fourth-round linebacker Khaseem Greene, fifth-round tackle Jordan Mills, sixth-round defensive end Cornelius Washington and seventh-round receiver Marquess Wilson.