After not catching any passes in the previous two games, Devin Hester helped spark the Bears offense Monday night in Dallas with a diving 34-yard touchdown reception from Jay Cutler.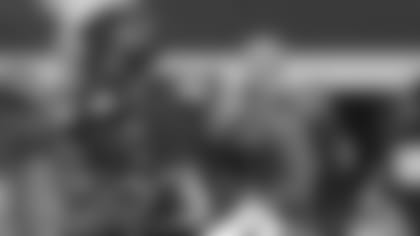 Devin Hester caught three passes for 38 yards including a 34-yard touchdown in Monday night's win over the Cowboys.
"It helps whenever Devin is involved, period, with anything," coach Lovie Smith said Wednesday. "We thought he had a couple opportunities in our return game to get him going more, but he has a role [on offense]. He's one of the most exciting players in the NFL with his hands on the ball. That catch he made, it's what he's capable of doing. We'll continue to find ways to get him the ball."
Hester has been sharing time at the split end position with Alshon Jeffery, a 6-3, 216-pound second-round draft pick who leads all NFL rookies in receiving yards with 164.
"I really feel like we have an explosive player there [in Hester], and when we're going to get certain coverages we need to take advantage of that with him," said offensive coordinator Mike Tice.
"We have two very good receivers playing the same position right now and we're trying to make sure that each guy gets a bit in it. There are certain things that a big-body guy is going to do better than a double-moves type guy, and we want to make sure that we get each guy a taste and each guy a chance.
"Certainly for me as a coordinator, as a play-caller, my vision I have with Devin is going to be explosive plays, chunk plays. If I want to go out there and throw a six-yard hitch, then put the [6-3] guy in there. It just makes more sense to me."
Ground to a halt: Thanks to their pass defense, the Bears lead the NFL with 11 interceptions and rank third with 15 sacks. But they've also excelled against the run, allowing the third fewest rushing yards per game (67.3).
"I think it starts with the mentality that you have to stop the run, and we want to get them into a passing situation," Smith told reporters. "It starts with that, but it's about discipline too.
"We have been in this system a long time. This over-the-hill gang that you all talk about so much with our defense, a part of being that is you have been around our defense so long that you know how important it is to just do your job.
"The running back, no matter where the ball is being run, it's gap control. The guys have bought into that, and then you see the results. For a defensive lineman, you want to be in that situation where you have knocked out the run and now you can just concentrate on rushing the passer."
Aches and pains: The Bears didn't practice Wednesday because they played a Monday night game two days earlier. But they're required to submit an injury report to the NFL in advance of Sunday's road contest against the Jacksonville Jaguars.
So had the Bears worked out, rookie fullback Evan Rodriguez (knee) would have sat out, and receiver Earl Bennett (hand), running back Matt Forte (ankle) and defensive end Julius Peppers (ankle) would have been limited.
Asked whether Bennett would return Sunday in Jacksonville after missing the Monday night win over the Cowboys, Cutler said: "I don't know. We'll have to see how he feels. I know he wanted to play last week. That's Lovie and the training staff and their call.
"I'd love to have him back. He adds a great dimension to us. Dane [Sanzenbacher] played well for us in that role. If we have [Bennett], that's great. If we don't, Dane's got to step up again this week."
On the mend: Tice conceded that he's limited a bit as a play-caller without a healthy Forte. After missing one game with a sprained ankle he suffered Sept. 13 in Green Bay, Forte tweaked his ankle on the first play in Dallas but returned to the game, rushing for 52 yards on 13 carries.
"It's different when he's not full-go and you have to caution yourself for some plays that you might just want to [call] that you might want to shy away from," Tice said.
"I know he's getting better every day. Someone fell on his ankle the first play of the game. But he bounced back and fought through it. He's just going to continue to get better and then we'll be able to do all the things that we want to do. It does limit you some, but that's every week, every game, every team has injuries."