As they prepare for Monday night's NFC North showdown at Soldier Field against the feisty Detroit Lions, the first-place Bears know what's at stake and what's in store for them.
"It's football; it's supposed to be physical," said running back Matt Forte. "Nobody is out there playing patty cake. If somebody is going to be physical on the other side of the ball, on your side of the ball you want to be physical right back. It's going to be a physical game, and we expect that."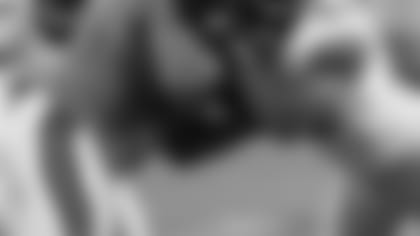 Bears offensive lineman Lance Louis locks horns with Lions defensive end Cliff Avril last season.
The Lions defense is fueled by linemen Cliff Avril, Nick Fairly, Ndamukong Suh and Kyle Vanden Bosch, an aggressive group that plays through the whistle.

"They've got a lot of talent up front," said center Roberto Garza. "They're coached well and play hard. You can see those guys getting better. They're finishing and playing through the whistle, so it's up to us to go out there and match that intensity.

"We've just got to play whistle-to-whistle and get after them. It's Monday night. Detroit's a division game, so we know what we have in front of us. It's a challenge for the offensive line, but the guys will be ready for it. Coach [Mike] Tice talked about what kind of game it's going to be. We know it's going to be a physical football game, so we've got to be ready for that."

If it's anything like the Bears' 37-13 win over the Lions last season at Soldier Field, it'll be chippy as well. In that game, Suh ripped Jay Cutler's helmet off on a scramble and later shoved the quarterback to the ground well after he had released the ball—without getting flagged either time. Fairley drew a 15-yard penalty for a late hit on Cutler.

In the fourth quarter, Lions quarterback Matthew Stafford ripped off nickel back D.J. Moore's helmet during a Tim Jennings interception return. Moore responded by charging at Stafford after the play, precipitating a melee between the teams and earning an ejection from the game.

Those scraps no doubt will be shown frequently on TV and the internet throughout the week.

"With today's technology, you don't have to remind guys an awful lot," said coach Lovie Smith. "It's not like I had to bring out the George Halas pep talk to get them ready to play Detroit.

"We realize what's at stake. We know about the rivalry that we have with them. But it's still going to be decided on the football field. We played a good game last time we played them, and it will always take that kind of effort."

After the Bears won all six meetings from 2008-10, the rivalry intensified last year when the two teams split their season series, with the Lions winning 24-13 in Detroit.

"Each time we've played them it's been a closer and closer game," Forte said. "It always comes down to the wire. So that always makes for a good rivalry when you play teams like that."

Monday night's game is crucial for the Bears (4-1), who own a half-game lead atop the NFC North over the Vikings (4-2). The Packers (3-3) are in third place, followed by the Lions (2-3). The Bears lost their only previous game against a division opponent, falling 23-10 in Green Bay.

Since the NFC North was formed in 2002, no division champion has lost its first two division games or won fewer than four of its six contests against NFC North opponents. When the Bears won the division in 2005, 2006 and 2010, they had a 5-1 record versus NFC North foes each time.

While the Lions are the only NFC North team not to win a title since the division was created, they earned their first playoff berth since 1999 last year when they went 10-6.

"Detroit has made a move to become a player in the league," Smith said. "We realize what's at stake. We want to stay in the position we are in in our division."