Determined to rebound from one of the most disappointing seasons in franchise history, the Bears reported to training camp Wednesday with a bevy of new faces and—most importantly—a new attitude.
Since general manager Ryan Pace and head coach John Fox were hired in January, they've helped establish a culture at Halas Hall that players believe will lead to sustained success.
"It's the leadership here and the way guys go about their business," said offensive lineman Kyle Long. "It's a professional atmosphere, but it's really a genuinely relaxed atmosphere. We're here to play football; we're not reinventing the wheel. It's a relaxed environment, but we're going to compete, and that's the one thing that became very apparent during minicamp—very competitive practices."
Long is so excited about the 2015 season that he arrived at training camp early.
"I got here [Tuesday] night," Long said. "A few of us caravanned down here, just waiting on guys. It's great to see everybody. It's like the first day of school. I was in the training room at 8 a.m. and I didn't have to be there until noon. I was just messing with everybody. It was a lot of fun."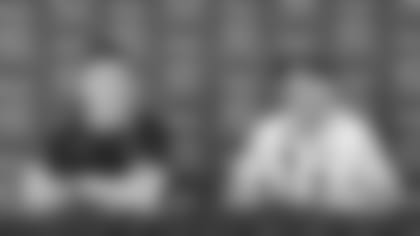 Bears general manager Ryan Pace and coach John Fox address the media Wednesday in Bourbonnais.
'Fun' certainly isn't how Long or any of his teammates would describe last season, when the Bears dropped their final five games to finish 5-11 and in last place in the NFC North under coach Marc Trestman.
As training camp begins, it appears the team has already washed that bad taste out of its mouth.
"You can definitely tell that a lot of the walls that had been built for whatever reason in the locker room have been knocked down," Long said. "It's kind of an open-air environment for a lot of guys. And between upstairs and downstairs, there are great relationships between players, coaches, staff and personnel. Everybody's really cool. It's nice to have that one goal in mind."
Long believes that communication has been key in creating that type of atmosphere.
"When you're working in a team environment, communication is paramount," Long said. "That holds true on the field as well as in the meeting rooms and in the locker room. You want to have relationships with these guys, genuine relationships. That happens through communication and just being able to hang out with a guy and not have to worry about whatever you're thinking about. You're on a team together. You get along. We're all in this thing together."
Bears players credit Fox with helping them develop camaraderie during the offseason. Over the past 13 seasons, Fox compiled a 119-89 record as coach of the Panthers (2002-10) and Broncos (2011-14), making seven playoff appearances, winning six division titles and reaching two Super Bowls.
"I've got to say the chemistry is by far better this year than it was last year," said outside linebacker Jared Allen. "Just from when coach Fox took over you could just tell there was a different energy in the building. The guys have fed off that. I think we had a really good offseason; really good OTAs and stuff like that. It's time to get this thing going and really test ourselves."
Quarterback Jay Cutler has also enjoyed working with the new Bears coach.
"Guys have reacted really well to coach Fox," Cutler said. "He's an easy guy to talk to. He's got a lot of experience. He's got a game plan. He's shown that it works in the NFL. More than anything, I think guys like coming to work now and enjoy the process of what we're trying to get done."
That process includes a direct approach that leaves players little doubt where they stand with Fox.
"He's not going to sugar coat it," Cutler said. "He tells you exactly how it is, what he expects from you and how things are going to go from day-to-day. He wants guys who want to win a Super Bowl. That's all he wants. He doesn't want guys who are in it for themselves and want to go to Pro Bowls. He's got one thing in mind and that's winning a Super Bowl, and we've got to find a way to win one."