After opening the season with a comeback win over the Bengals, the Bears return to the practice field Wednesday to prepare for Sunday's home game against the Vikings.
With a victory at Soldier Field, Marc Trestman would join Hall of Famer George Halas (1920) and Neill Armstrong (1978) as the only head coaches in Bears history to win their first two games.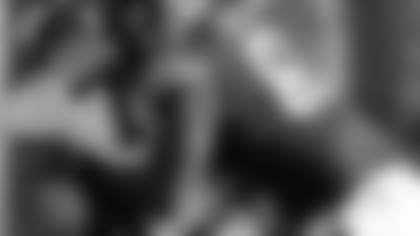 Bears defensive tackle Henry Melton sacks Vikings quarterback Christian Ponder last season in Chicago.
The Bears have won five straight and 11 of 12 home games against the Vikings since 2001. The only exception was a 34-31 loss in 2007. The home team has won 18 of the last 22 meetings between the longtime division rivals since 2002.
The Vikings are led by two members of the 1985 Super Bowl champion Bears in head coach Leslie Frazier and linebackers coach/assistant head coach Mike Singletary. On the flipside, Trestman and a handful of his assistants were born and raised in Minnesota.
The Bears lost their last meeting to the Vikings 21-14 last Dec. 9 in Minnesota. Adrian Peterson rushed for a team-record 104 yards in the first quarter including two 1-yard touchdowns that gave the Vikings a 14-0 lead. Peterson raced 51 yards on the game's first play from scrimmage.
For the Bears, Jay Cutler completed 22 of 44 passes for 260 yards with one touchdown and two interceptions, Brandon Marshall caught 10 passes for 160 yards, and Matt Forte rushed for 85 yards on 13 carries and added six receptions for 34 yards.
Cutler has played eight career games against the Vikings, throwing for 1,812 yards with 17 TDs, nine interceptions and a 91.7 passer rating. Forte has rushed for 628 yards and one TD on 153 carries and caught 27 passes for 162 yards and one TD in nine contests. Marshall has 36 receptions for 437 yards and two TDs in four games. Julius Peppers has eight sacks in 11 contests.
The Bears will look to protect Cutler as well as they did last Sunday against the Bengals when they did not allow a sack in a season opener for the first time since 1998 versus the Jaguars.
ChicagoBears.com will provide all the latest Bears news throughout the week from Halas Hall. Trestman is scheduled to address the media Wednesday, Thursday and Friday. Defensive coordinator Mel Tucker and special teams coordinator Joe DeCamillis will be available Wednesday, while Cutler and offensive coordinator Aaron Kromer will speak Thursday.