The Bears have started the same five offensive linemen in each of Marc Trestman's 17 games as head coach dating back to last season, but that streak will end Sunday night.
With veterans Roberto Garza and Matt Slauson unable to play against the 49ers due to ankle injuries, Brian de la Puente will start at center and Michael Ola will open at guard.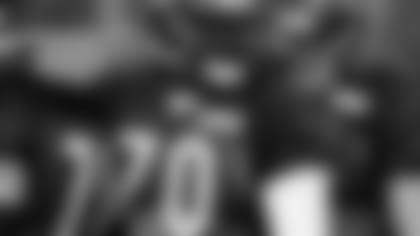 Michael Ola will make his first NFL start Sunday night against the 49ers.
In last Sunday's season-opening loss to the Bills at Soldier Field, the Bears offense didn't skip a beat after de la Puente and Ola replaced their injured teammates, generating 233 yards and 17 first downs in the second half and overtime.
"Brian's played a lot of football," said quarterback Jay Cutler. "He started for the Saints. He knows our system. He's been around. He's a veteran guy. Mike's been in there with us really all preseason and played well last week. So we still have those guys pretty intact."
De la Puente started all 16 games at center for the high-powered Saints each of the past two seasons after opening 12 of 16 contests played in 2011. The 6-3, 306-pounder's position coach in New Orleans in 2011-12 was Bears offensive coordinator Aaron Kromer.
"He showed up as a practice squad player in New Orleans and he was a calm, kind of an ice-man player," Kromer said. "When he goes in the game, nothing fazes him. He doesn't get affected by things mentally. When you have that attribute, it allows you to just focus on your job.
"He's been a starter. He came here in a backup role because of Roberto Garza and all the success he's had. But we knew and everyone knew that he's been a capable starter in the past and he can do it again. We feel confident."
Given his experience the past few seasons, de la Puente expects to make a smooth transition as he prepares to start in place of Garza Sunday night at Levi's Stadium.
"The last few years I've been playing center, so I feel comfortable," de la Puente said. "It's really just getting these reps with these guys and making sure we're all on the same page, communicating well and going out there and executing our plan."
Having played for Kromer in New Orleans has helped de la Puente adapt to the Bears offense.
"It definitely makes the transition easier," de la Puente said. "I'm familiar with the schemes. The offense is obviously different. There was some learning to do. But there is a lot of crossover. I had been in that offense for four years, so I feel like I've got a pretty good grasp of it."
Ola also has a familiarity with the Bears offense and coaching staff, having played for Trestman and line coach Pat Meyer in the CFL with the Montreal Alouettes. The 6-4, 312-pounder earned a spot on the 53-man roster in part because he's able to play every line position except center.
"He's a very quiet guy," Trestman said of Ola. "He's very bright and has picked up the offense very quickly—the assignments, the communication—and does have the athletic ability to be very versatile. That's what we saw up there and that's what we're seeing here."
Kromer was pleased with how Ola performed when called upon last Sunday against the Bills.
"It's not surprising that Ola had success in the last game," Kromer said. "In the preseason, he demonstrated that he could play not only guard like he's playing in this game, but he also showed that he could play tackle, both right and left. So with that confidence that we've built up and the team has built up in him, it was no surprise that he has success. We expect him to get the job done."
Ola credits the expanded playing time he received in a preseason game against the defending Super Bowl champions last month in Seattle with speeding up his development.
"No matter how much you simulate something, when you actually go out there and it's live and you're going against guys that are really trying to take your head off, it's the biggest thing," he said.
Ola also benefited greatly from working with the No. 1 offense in training camp when right guard Kyle Long was sidelined with a viral infection and right tackle Jordan Mills was out with a sore foot.
"I really was groomed this training camp with the reps that I got with the situation and the way things happened," Ola said. "Nobody wants anyone to go down, but that's just the way things happened and I was able to get those reps and it really expedited my growth process in the NFL."