The Bears kicked off the third and final phase of their offseason program Tuesday by conducting the first of 10 OTA practices at Halas Hall.
The session was the first this offseason pitting the offense against the defense.
"We've been out there seeing nothing but offensive guys for the last few weeks and competing is really what we all live for," said receiver Marc Mariani. "So getting out there with the 'D' and being able to go at each other is really the name of the game this time of year."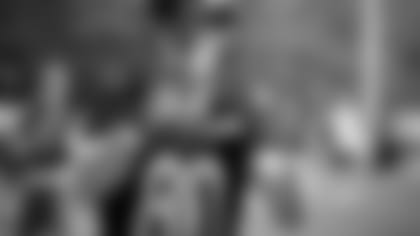 Bears receiver Marc Mariani takes part in a drill on the first day of OTA practices at Halas Hall.


With the two units squaring off, the intensity level was noticeably higher.
"It changes things drastically," Mariani said. "You've got a bunch of guys out there flying around. It's what we all love to do. We're born and bred to compete."
Members of the defense feel the same way.
"That makes it a little bit more fun," said defensive lineman Akiem Hicks. "These past couple weeks you've been working out and running and sticking to your separate sides of the ball. But to actually be able to go out and compete against other guys, even though they're your teammates, iron sharpens iron really for us; just make each other better."
The Bears' remaining nine OTAs are scheduled for Wednesday and Thursday this week, followed by June 1-3 and June 6-9. The offseason program will conclude with a mandatory minicamp June 14-16.
The OTAs are the first time that Bears veterans and rookies practice together.
"It's a good learning curve for the young guys to see the speed and to see kind of how we practice," Mariani said. "I think most of the guys are doing a great job. It's definitely a big transition for some guys, but it's exciting for all of us. We're just trying to get better around here. We're trying to win championships."
On offense, the Bears are trying to get better with first-year coordinator Dowell Loggains, who was elevated from quarterbacks coach after Adam Gase left to become head coach of the Miami Dolphins.
"He brings a lot to the offense," said running back Ka'Deem Carey. "He has us excited to get out there. He has so much energy and he puts it into each and every one of us."
"Coach Loggains is doing an awesome job and guys are holding each other accountable," Mariani said. "They're pushing each other and I think in the long run it's just going to make us better all around."