Three days after their 37-13 win over the Rams, the Bears return to the practice field Wednesday to begin preparing for Sunday's home game against the Broncos.
The contest at Soldier Field will pit Bears coach John Fox against his former team. As Broncos coach the previous four seasons, Fox won four straight AFC West titles and one AFC championship while compiling a 46-18 regular-season record.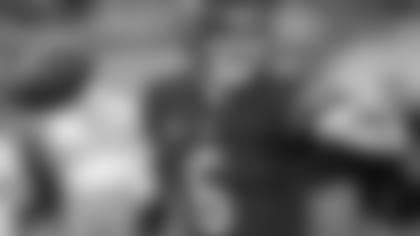 Quarterback Jay Cutler has played against every NFL team except the Denver Broncos who he spent his first three NFL seasons with.
Several of Fox's assistants with the Bears also worked for him with the Broncos. They include offensive coordinator Adam Gase, offensive line coach Dave Magazu, special teams coordinator Jeff Rodgers and defensive line coach Jay Rodgers.
With a win, the Bears would reach the .500 mark for the first time since they were 3-3 last season. They've won two straight games and four of six following an 0-3 start.
The Broncos (7-2) have lost their last two games after opening the season 7-0. Denver is 3-0 against the NFC North, while the Bears are 3-0 versus the AFC West.
Broncos coach Gary Kubiak announced Monday that backup quarterback Brock Osweiler will start in place of future Hall of Famer Peyton Manning Sunday.
Manning is suffering from foot, rib and ankle injuries. He was removed from Denver's loss to the Chiefs in the third quarter last Sunday after completing just 5 of 20 passes for 35 yards with no touchdowns, four interceptions and a 0.0 passer rating.
Manning will be inactive against the Bears, with rookie Trevor Siemian serving as Osweiler's backup.
Osweiler was selected by the Broncos in the second round of the 2012 draft out of Arizona State. The 6-8, 240-pounder has appeared in 14 games, all as a reserve, in four seasons, completing 31 of 54 passes for 305 yards with two touchdowns, one interception and a 78.1 passer rating.
Osweiler will make his first NFL start on his 25th birthday Sunday. After replacing Manning against the Chiefs, he connected on 14 of 24 passes for 146 yards with one TD, one interception and a 72.6 passer rating.
Bears quarterback Jay Cutler spent his first three NFL seasons with the Broncos from 2006-08, passing for 9,024 yards with 54 touchdowns, 37 interceptions and an 87.1 passer rating while making 37 starts over three seasons.
Cutler, who missed the Bears' last meeting with the Broncos in 2011 with a broken thumb, has played against every NFL team except Denver.
The Bears-Broncos series is currently tied 7-7 and has been previously knotted at 1-1, 3-3, 4-4, 5-5 and 6-6. The Bears lost the last meeting 13-10 in overtime on Dec. 11, 2011 at Sports Authority Field at Mile High.
Entering Week 11, the Bears are tied for 16th in offense (14th rushing and 21st passing) and rank 8th in defense (26th against the run and 4th versus the pass). The Broncos rank 28th in offense (29th rushing and 18th passing) and 1st in defense (7th against the run and 1st versus the pass).
ChicagoBears.com will provide all the latest news throughout the week from Halas Hall. Coach John Fox will address the media Wednesday, Thursday and Friday. Defensive coordinator Vic Fangio and Jeff Rodgers will be available Wednesday, while Cutler and Gase will speak Thursday.