INDIANAPOLIS – Ryan Poles is even-keeled by nature, but there's no denying that the Bears general manager is fired up about having the No. 1 pick in the draft.
"I try not to get too high or too low and try to stay on our toes," Poles said at the NFL Combine in Indianapolis. "I've been in this league long enough [to know] that some curveball's going to pop up and we're going to have to adapt and adjust to it.
"But, if anything, the feeling is of excitement because as a front office person, this is a bit of a dream in terms of the flexibility and options that you have to improve the football team."
While Poles will do his due diligence on quarterbacks in the draft, he reiterated Tuesday that he remains committed to Justin Fields and would have to be "blown away" by one of the prospects to spend the No. 1 pick on a quarterback. 
Poles added that the Bears have "always leaned" toward trading down from No. 1 and acknowledged that swapping that pick for additional draft assets would be the ideal scenario. 
How far Poles is willing to move down will depend on the grades the Bears assign to draft prospects, a process that won't begin until after the Combine concludes. The organization ranks players by color, beginning with blue, followed by red, gold, orange and gray.
"We should get some really good information this week to make us feel better about that so we know what that looks like," Poles said. "This whole Combine event is about collecting information because we've still got to get back, we've got to put our draft board together, tighten that up from the information that we get here, and that's really going to start to allow us to play the numbers game to see what's possible, what makes sense for us."
"The feeling is of excitement because as a front office person, this is a bit of a dream in terms of the flexibility and options that you have to improve the football team." Bears GM Ryan Poles
Once the Bears create their draft board, they'll have a better idea of which players could be available at different areas they may trade down to. 
"That's the numbers game I talk about," Poles said. "If we move to this spot, who's available? I always talk about value, so there's going to be certain players that are going to be in the value bucket—how many are there—which is going to dictate how far we can move back."
Poles revealed that there's a possibility the Bears could agree to trade the No. 1 pick before free agency and the new league year begin March 15. 
"There are some scenarios that might benefit us to move before free agency opens, potentially," he said. "But, again, when we get back with all the information that we've gathered from here, I think we'll have a better direction." 
Asked about discussions with other teams about a potential trade, Poles said: "It's really just kind of starter conversations right now; nothing specific about players, picks and all that. It's just interest."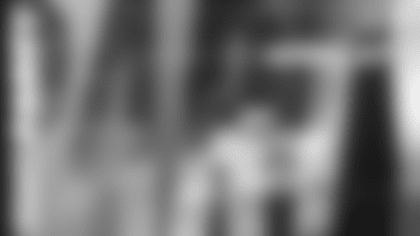 THE BIGGEST BEARS PARTY OF THE YEAR
There's no offseason for the Bears, and this year we're celebrating an historic offseason with the whole family. We'll get together for THE MOMENT we welcome the newest Bears into the family. Join us at Soldier Field for the 2023 Miller Lite Chicago Bears Draft Party, and spend night 1 of the Draft with thousands of your closest friends.
We'll have non-stop Draft coverage and analysis, plus the spring's best party with activities across the Dr Pepper Patio, the Miller Lite Midway, the Verizon Mezzanine and on the field. Tickets for this year's Draft Party are currently sold out. Check back for updated information between now and April 27th. If further tickets become available, you'll hear about it here first.