Jackson, who was playing at a Pro Bowl level through 12 weeks, injured his foot against the Jets Nov. 27, which left him out for the final five games. While Jackson remains in the rehab process, coach Matt Eberflus told reporters at the NFL Combine he "feels good where [Jackson] is right now." General manager Ryan Poles added: "I saw Eddie a couple days ago. He looked good, moving around, getting after it."
The return of Jackson for the 2023 season would create stability within the unit and allow a young secondary to continue learning from one of the team's most influential leaders. 
"Jaquan learned a lot from Eddie," Eberflus said. "So it's a big piece that we have that continuity, we have some continuity in the secondary with Jaylon and Gordon and have some really good pieces back there. And if we know that we can get some guys up front in free agency and the draft, that'll make that job a little bit easier in the back end for sure."
Despite only playing in those 12 games, Jackson totaled 80 tackles, six passes defended, four interceptions and two forced fumbles in his sixth NFL season.
While Jackson's injury will continue to be evaluated as the offseason progresses, Poles and Eberflus are eager for the veteran to return.
"I was excited about the progress that he made," Poles said. "I thought he was heading in the right direction, getting back to the ball with takeaways. I thought he tackled well, too, so we're excited about Eddie."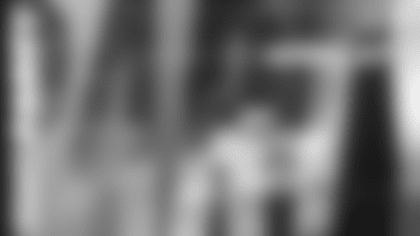 THE BIGGEST BEARS PARTY OF THE YEAR
There's no offseason for the Bears, and this year we're celebrating an historic offseason with the whole family. We'll get together for THE MOMENT we welcome the newest Bears into the family. Join us at Soldier Field for the 2023 Miller Lite Chicago Bears Draft Party, and spend night 1 of the Draft with thousands of your closest friends.
We'll have non-stop Draft coverage and analysis, plus the spring's best party with activities across the Dr Pepper Patio, the Miller Lite Midway, the Verizon Mezzanine and on the field. Tickets for this year's Draft Party are currently sold out. Check back for updated information between now and April 27th. If further tickets become available, you'll hear about it here first.
Eberflus echoed Poles' comments on quarterback Justin Fields from Tuesday, discussing his excitement for Fields' development while continuing his evaluation of quarterbacks in this year's draft class.
In Fields' first season under offensive coordinator Luke Getsy, Eberflus liked the progress he saw from the second-year pro.
"For the first year in the system, I think he's on the right track," Eberflus said. "He just needs to make small improvements and adjustments to his game, and he's gonna do that."
One area of improvement Eberflus identified was learning when to take the check down rather than scramble. While Fields constantly showcased his athleticism by creating explosive plays on the run, Eberflus and Poles have been open about the quarterback's room to grow as a passer in 2023.
"Some of the conversations we've had and we've talked about at the end of last year was really to take what the defense gives you," Eberflus said. "I know that's coach talk, but that's really what he needs to do. He's obviously a tremendous athlete — he can do a lot of different things. If we call a designed run, sure, you can run it there. Third down and situations like that, critical situations in the red zone, certainly do it there. But when it's first and second down early in the game, let's just take what the defense gives you and move on."
Evaluating players' fit in defense
When analyzing film, Eberflus can quickly tell whether a player would fit into his defensive scheme and philosophy. With the HITS principle being at the forefront of Eberflus' defensive teachings, seeing a distinct passion for the game on tape is the priority.
"It isn't for everybody," Eberflus said of his defense. "That comes down to the No. 1 thing, the love of football. They have to love the game. How do they show that? It's what they show on tape. We're going to evaluate the number first. It doesn't matter if it's free agency or draft, we evaluate that.
"The passion that they have, the competes that they have on the field is the most important thing, and then we've got to figure out culturally, does he fit as a person, as a teammate and all those things. But No. 1, he has to have love for the game."