INDIANAPOLIS – The 40-yard dash, bench press and on-field drills are broadcast on television for the world to see. But one integral aspect of the NFL Combine takes place behind closed doors.
The Bears and the league's other 31 teams are permitted to conduct 18-minute interviews with 45 prospects of their choosing—a tool that enables clubs to learn more about prospective employees.
"I don't think you can get enough face-to-face time," Bears general manager Ryan Poles told ChicagoBears.com, "getting to know them, what they're about, some of the things that they've gone through in both their life and football life, to show that they have the resilience to play in this league."
In 2020, the NFL decreased the number of prospects teams could meet with from 60 to 45 while increasing the allotted time from 15 to 18 minutes. 
The players the Bears interview generally fall into three categories: 1) Those who've impressed them on the field, to make sure that what they've seen on tape and heard about them matches their personality; 2) Underclassmen, because they haven't spent as much time with them and need more information about their backgrounds; and 3) Those who need to clarify situations they've been involved with on or off the field.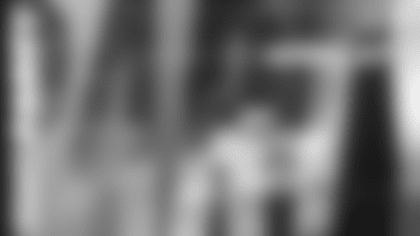 THE BIGGEST BEARS PARTY OF THE YEAR
There's no offseason for the Bears, and this year we're celebrating an historic offseason with the whole family. We'll get together for THE MOMENT we welcome the newest Bears into the family. Join us at Soldier Field for the 2023 Miller Lite Chicago Bears Draft Party, and spend night 1 of the Draft with thousands of your closest friends.
We'll have non-stop Draft coverage and analysis, plus the spring's best party with activities across the Dr Pepper Patio, the Miller Lite Midway, the Verizon Mezzanine and on the field. Tickets for this year's Draft Party are currently sold out. Check back for updated information between now and April 27th. If further tickets become available, you'll hear about it here first.
One thing that's important to Poles is players taking ownership for their mistakes. He wants them to admit they messed up without making excuses or blaming others and hear them explain what they learned.
With millions of dollars potentially at stake, prospects often walk into their team interviews racked with tension and anxiety. In an attempt to put them at ease, this year Poles has installed a putting green and dartboard in the Bears suite.
"Before we get into all the questions, we do some fun and games and compete a little bit to get the guys to relax because a lot of times it seems like it's a tough, intense situation to walk into a room full of people," Poles said. "[We] have a little bit of fun and easy questions and then we get to football.
"And once you get to football you can see the shift of, 'this is my comfort zone,' through those conversations and throwing in some personal questions about their makeup and things that they've been through and overcome. We throw that in the middle of the film so they're in their comfort zone. I think that's a really good tool to make sure you're seeing the person that they are."
"It's not an interrogation. We just want to get a feel for the person …" Bears GM Ryan Poles
Prospects the Bears have interviewed this year generally have been pleasantly surprised when they first see the putting green and dartboard.
"They don't expect it," Poles said. "You can see they have fun, and they realize, 'we're the Chicago Bears and we're here just to get to know them a little bit.' It's not an interrogation. We just want to get a feel for the person and how they communicate and regurgitate some of the things they did on film, what they were taught to do.
"We don't want to overdo it and make it into something that it's not. Let's just have a good time and get to know each other."
Poles lauded coach Matt Eberflus and his staff for being a valuable part of the evaluation process, both in free agency and the draft.
"We give them buckets of players to evaluate and to stack," Poles said. "What's critical for us is knowing their role fit and vision for the player. That's important.
"And then what we do is we all get in the draft room, and if it's for free agency or the draft, we'll go down their list and we'll talk about where maybe we have discrepancies where we see something different. If that means we watch more tape and have more discussions, we do that so that we feel comfortable. There are going to be times when you agree to disagree, but when you are all on the same page and seeing things the same way, you feel convicted about it, which as the general manager is really important for me because I know that guy is going to be developed because everyone saw it the same way.
"I couldn't be happier with our coaching staff's ability to evaluate; their hunger and urgency to do it. It's not a burden to them. They love doing it. Coach Eberflus is outstanding, and it's probably from his recruiting background. He's an outstanding evaluator, which is really powerful."
Rookies displayed 'grown-men traits'
"There was a confidence level about them," Poles said. "In the interview process, they told you what they knew, and they were confident about that and convicted about that. To me, there were some grown-men traits there, guys that handle their business and move and communicate with confidence.
"And then from a movement perspective, there were some really cool physical traits. We got to see them all perform and that just added to our fall evaluation to make us feel comfortable with selecting those players."