It won't be easy for the Bears to overcome the loss of Pro Bowl cornerback Charles Tillman, who will miss at least the rest of the regular season with a torn right triceps. But defensive coordinator Mel Tucker has faith in replacement Zack Bowman, a six-year veteran.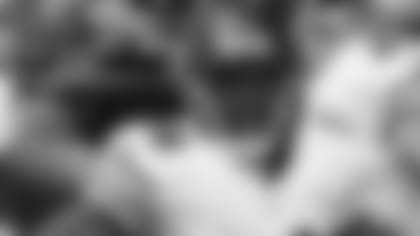 Cornerback Zack Bowman celebrates after recovering a fumble for a touchdown last season in a win over the Arizona Cardinals.
"I'm very confident in Zack," Tucker said. "He's a veteran player. He's played in some games and done a good job when he's gone in. We have a tremendous amount of confidence in Zack to get the job done. Obviously when you lose a great player like Charles, you never want to see that. But unfortunately injuries are a part of this game that we play and we coach, so it's next man up."

Tillman was injured in last Sunday's loss to the Lions. He was placed on injured reserve with the designation to return, meaning he's eligible to practice in six weeks and return to game action in eight weeks. That timetable would enable him to come back for the first round of the playoffs.

Bowman has played in 66 games with 17 starts in six seasons with the Bears. In his only year as a regular starter in 2009, he led the team with six interceptions. Starting in place of Tillman earlier this year against the Giants, Bowman intercepted an Eli Manning pass on the game's first possession.

Ground up: As they prepare to face the Ravens, the Bears are focused on improving their 31st-ranked run defense, which has yielded 209, 199 and 145 yards in their last three games.

"It's honestly not like we're getting driven off the ball," said defensive end Corey Wootton. "It's just that we're not fitting in our gaps. When you're not disciplined the thing that should be a one-yard gain or possibly a tackle-for-loss turns into a 20-yard gain. That's where we need to clean that up because it's starting to become a problem."

Last Sunday the Lions outgained the Bears 145-38 on the ground. Detroit rushed for 117 yards on 17 carries in the second half, including a 39-yard gain by Reggie Bush.

"Last week I thought we started in the first half strong fitting up the run," Wootton said. "They only had 28 yards rushing. But the second half we started with a huge rush by Bush and it kind of set us back a little bit."
Oval Office: When the Ravens visited the White House in June to be honored for their Super Bowl championship, President Barack Obama wished them well-but warned them about one game.
"Best of luck next season," the President said. "You're going to need it in Week 11 when you go to my hometown of Chicago to play the Bears."
Reminded of that comment this week, Ravens coach John Harbaugh said: "We appreciate the President and the fact that he's a huge football fan and sports fan. I'm sure he'll be watching this game very closely, and we'll do our best to disappoint him."
Going to jail: Former Bears receiver Sam Hurd on Wednesday was sentenced to 15 years in prison for his role in starting a drug-distribution ring in 2011. In April, Hurd pled guilty to one count of attempting to purchase and distribute large amounts of cocaine and marijuana.
The Bears waived Hurd on Dec. 16, 2011, less than 48 hours after he had been arrested on federal drug charges. He was taken into custody outside a Rosemont restaurant after accepting a kilogram of cocaine from an informant and an undercover federal agent posing as a drug supplier.
Hurd signed with the Bears in 2011 after spending his first five NFL seasons with the Cowboys.