With one notable exception, the Bears offense remained relatively injury-free throughout the 2013 season, which contributed significantly to a record-breaking campaign.
A year later, the law of averages seemingly caught up to the unit immediately with four key starters getting hurt in last Sunday's disappointing season-opening loss to the Bills.
On Thursday, receivers Brandon Marshall (ankle) and Alshon Jeffery (hamstring), left guard Matt Slauson (ankle) and center Roberto Garza (ankle) all missed practice for the second straight day—putting them in jeopardy of missing Sunday night's road game against the 49ers.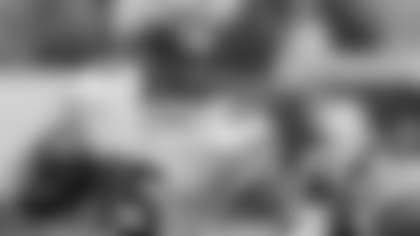 Bears Pro Bowl receiver Brandon Marshall intends to test his sore ankle Friday at practice.
Practicing without his two Pro Bowl receivers this week has been strange for quarterback Jay Cutler, who was the Bears' only offensive starter to miss a game with an injury last season.
"It's definitely different not having those guys out there," Cutler said. "We've still got Marty [Bennett] and Matt [Forte] in the backfield, so we've got to figure out what we like with some of these other guys and just make sure that we keep our plan simple and get in and out of the huddle."
Marshall, who finished last weekend's season opener despite limping noticeably, intends to test his ankle Friday and hopes to play against the 49ers.
"Sometimes your body tells you 'no' and your mind has to be a little bit stronger," Marshall said Thursday. "I was able to fight it off the second half and do some things.
"I felt a little more comfortable today than I did in the second half. I still have a few more days of healing to go [and plan to] get out there tomorrow and test it out. It will be ugly and it's going to be sore and it's going to hurt. But you've got to show the team and the coaches that I can at least be in position."
Marshall hopes to play, but conceded that the final decision isn't his to make.
"If I can help out the team, I'm going to be out there," he said. "I'm going to go down swinging. I'll be out there Sunday. That's what I'm saying, but of course I'm not the head decision-maker here. But I'm going to be out there in my mind and I'm going to be OK."
With Josh Morgan also sitting out with a hamstring injury Thursday, the only Bears receivers who practiced were Santonio Holmes and four members of the practice squad: Josh Bellamy, Greg Herd, Rashad Ross and Chris Williams.
"It's been challenging, but it's been fun working with some of these young guys and getting in and out of the huddle and correcting them," Cutler said. "They're all eager. They're all excited to be out there. They've got a little pep in their step. They're fast guys, so it's been a good experience."
If any of the reserve receivers are forced into expanded roles Sunday night, they'll be expected to contribute.
"These guys get paid too," Marshall said. "Just because I may be getting paid the highest out of all the receivers doesn't mean I'm the only one capable. They've got to earn their keep. Hopefully we get healthy and get out there and help them out a little bit. But, hey, these guys can ball; that's why they're here."
With Garza and Slauson sidelined, Brian de la Puente and Michael Ola have been working with the starting line at center and left guard, respectively. The Bears offense didn't miss a beat when the two entered last Sunday's opener, compiling 233 yards and 17 first downs while not allowing a sack during the second half and overtime.
De la Puente started all 16 games at center for the Saints each of the past two seasons and 12 contests in 2011, while Ola is an NFL rookie who played for Trestman in the CFL with the Montreal Alouettes.
It hasn't been easy practicing for Sunday night's game without four key starters, but the Bears will be prepared for any scenario.
"We're not going to try to get overly complicated in terms of trying to make it hard on any of us in terms of who's going to be in there," Trestman said. "We're still waiting [to see who's available]. So we've got a game plan in place that we think can acclimate to the guys that we've got practicing right now, and certainly if they can do it, the guys who are not will be able to handle it as well."