In a perfect world, quarterback Jay Cutler would take every snap this season. But if that doesn't happen, the Bears have complete faith that backup Jimmy Clausen could step in and do the job.
The Notre Dame product defeated Jordan Palmer in a neck-and-neck competition for the No. 2 position primarily because Clausen is younger and has more NFL experience.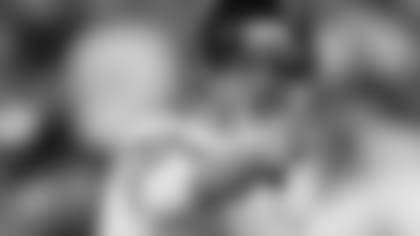 Jimmy Clausen
"He's played a lot of football," Cutler said. "He's played a lot of high quality football—in high school, in college and he's played and he's started in this league. So he's been in my shoes. He's been under the gun. He's been in pressure. So he's got a good feel. I think he's had a really good camp and preseason and I'm happy for him."
Clausen played in 13 games with 10 starts as a rookie with the Panthers in 2010 after being selected by Carolina in the second round of the draft. He completed 157 of 299 passes for 1,558 yards with three touchdowns, nine interceptions and a 58.4 passer rating while being sacked 33 times.
"Coming off a rookie year having to start on an offense that's not that talented and going through what he had to do in Carolina, it could crush the confidence of a player," said offensive coordinator Aaron Kromer. "He hasn't allowed that to happen. It doesn't show. He's still confident. He's smart. He works at it. And he'll be ready [if needed]."
Audition time: The Bears are eager to see how David Fales performs Thursday night in Cleveland. The rookie quarterback is expected to start and play all or most of the preseason finale.
"He's extremely bright," said coach Marc Trestman. "He understands the system in terms of our verbiage, how we get out of the huddle and get plays called, how to get out of plays. Physically, he's got very good feet, he's accurate and he's not afraid to throw the football around and try to make plays. I'm excited to see what he can do."
Fales was a productive two-year starter at San Jose State, where he passed for 4,193 yards and 33 touchdowns in 2012 and 4,189 yards and 33 TDs in 2013. The Bears selected him in the sixth round of the draft after quarterbacks coach Matt Cavanaugh conducted a private workout with Fales.
"When we looked at him we saw that he's a very accurate passer, which is something that is hard to coach into a player," Trestman said. "He showed the ability to do that and to move around. He's got some mobility. He's just in his developmental stage. It's going to be fun to see what he can do."
Tough task: Cutler knows it won't be easy for Fales Thursday night, especially because the Bears generally don't game plan in the preseason and the Browns are expected to play their starters at least for part of the first quarter.
Asked what advice he'd give the rookie quarterback, Cutler said: "You just have to take care of the ball, get in and out of the huddle, make 'Mike' points and just keep the tempo of the game going. Everything else will take care of itself. He's got really good feet, he works well in the pocket, has a good sense of time, so just protect the football. He should do OK."
Cutler has been impressed with Fales since the rookie joined the Bears.
"When he came in he was good," Cutler said. "You could tell he was a polished quarterback. Like I said, he's got real good feet, a good sense of timing in the pocket of when to move and when to move on to another receiver. His arm's plenty strong. It's just getting him reps.
"He hasn't had a lot of reps. With Jimmy and Jordan taking the majority of them, it's been hard to sneak him in and get three reps here, three reps there."
Providing depth: Right tackle Jordan Mills is back practicing after missing the Bears' first three preseason games, but it's not yet known whether he will play Thursday night in Cleveland.
If Mills is held out, rookie Michael Ola likely will make his fourth straight preseason start. Claimed off waivers from the Dolphins in May, Ola played in the Arena Football League in 2012 before spending two seasons with the CFL's Montreal Alouettes, where he was coached by Trestman.
"He's a good player," Cutler said. "He's not afraid to ask questions. He makes sure that he's going to the right guy, and he's had a few different guards in there with him, too, which makes it even harder. Brian [de la Puente] was in there earlier and then Kyle [Long] came back.
"He's played the left side and he's played guard, so Mike's been bouncing around and everywhere we put him he seemed to play well, which is exciting to see. You want depth in the offensive line room and he adds a lot of depth with his ability to play different positions, which is good."