Serious leg injuries in each of his first two NFL seasons have forced Kevin White to miss 28 of 32 games. But the Bears are confident that the young receiver possesses the drive and determination to relaunch his career.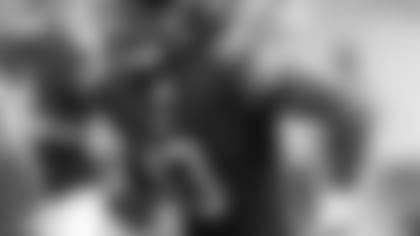 Bears receiver Kevin White had 19 receptions for 187 yards in four games last season.


"Knowing his work ethic and his approach and his support system, I know he's going to come back ready to go," said general manager Ryan Pace. "He has just got to shake off some of that bad luck. Kevin is going to have to step up and stay healthy."
White has been anything but since being selected by the Bears with the seventh overall pick in the 2015 draft out of West Virginia. He missed his entire rookie season with a stress fracture in his left leg and then broke his fibula in the same leg in the fourth game last year, eventually undergoing surgery for the second straight season.
White has shown promise when healthy; his 19 receptions last season were the most ever by a Bears player in his first four NFL games. The key moving forward, of course, is for the 6-3, 216-pounder to stay on the field and out of the training room.
"Obviously it's not a great start to his career," said coach John Fox. "He understands that greater than anybody because he's been the one who's had to deal with it.
"I'm sure it's been frustrating. Anytime somebody is injured it's frustrating for everybody, whether it's fans, coaches, the player himself. But he's a very resilient guy, [which is] one the biggest reasons why we drafted him. I think his makeup will prevail."
Community on the rise: Bears chairman George H. McCaskey was convinced to vote to approve the Raiders' move to Las Vegas during last week's owners meetings in Arizona.
"The gambling was a concern, but I think with the proper safeguards, that can be dealt with," McCaskey said. "I had a concern about the viability of Las Vegas as an NFL market, but they presented us with research that said, among other things, that in 20 years the population of the Las Vegas area and the population of the Oakland area are going to be basically comparable. So it looks like a community on the rise and I think [Raiders owner] Mark Davis and his group are going to do a great job there."
The move was approved 31-1 with only the Miami Dolphins voting against it.
No thanks: The Bears have made it clear that they don't want to be featured on the annual HBO reality series "Hard Knocks," which goes behind-the-scenes at an NFL team's training camp.
Asked if his feelings have changed about "Hard Knocks," McCaskey said: "We're looking forward to seeing which team other than us is profiled this year."
Very satisfying: McCaskey is an avid Cubs fan who is still relishing last year's World Series championship and what it meant to his Cubs counterpart, Tom Ricketts.
"Very, very satisfying after 108 years of waiting," McCaskey said. "It's just very, very gratifying. I'm very happy for Tom. He's great and he's taught me a lot about staying in touch with the fans. He was walking around Wrigley Field, not shying away from anybody's questions when the Cubs were losing 90 games a season for three seasons and patiently answering people's questions: 'When are you guys going to win?' I couldn't be happier for him and the Cubs and Cubs fans everywhere."
McCaskey said he watched Game 7 of the World Series "at home by myself."
"When that guy [Rajai] Davis hit that home run that tied the game and they showed the stadium shaking I thought, 'Jeez, after all of this.' And then [came] the greatest rain delay in Cubs history and they showed what they were made of. Just very, very satisfying and we're looking forward to that kind of moment for the Bears and Bears fans."