The Bears on Thursday landed a versatile offensive lineman for the second straight day when they agreed to terms with Ted Larsen on a one-year contract.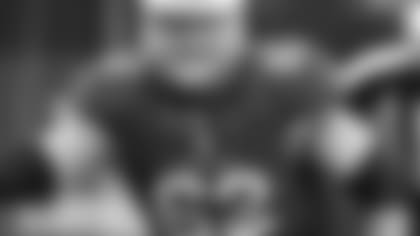 Versatile offensive lineman Ted Larsen has appeared in 86 games with 57 starts over six seasons.


Larsen, 28, has appeared in 86 games with 57 starts over six seasons with the Buccaneers and Cardinals. He arrives one day after the Bears signed offensive lineman Manny Ramirez, who has played in 83 games with 65 starts over eight years with the Lions and Broncos.
Like Bears veteran Matt Slauson, Larsen and Ramirez have started NFL games at left guard, right guard and center—which should provide the position flexibility the team covets.
Larsen spent the last two seasons with the Cardinals. He started all 16 games in 2014 (14 at left guard and two at right guard) and opened all 10 contests he played last year (three at left guard and seven at right guard).
The 6-2, 305-pounder was selected by the Patriots in the sixth round of the 2010 draft out of North Carolina State. Waived by New England before the regular season, he was claimed by the Buccaneers and started the final 11 games of his rookie season at left guard.
Larsen remained with Tampa Bay through 2013, starting a total of 31 games (20 at left guard and 11 at center), before joining the Cardinals.
Before agreeing to terms with the Bears, Larsen had drawn free-agent interest from multiple teams, including the 49ers, Falcons and Seahawks.