INDIANAPOLIS — The Bears have already signed Jay Cutler, Robbie Gould, Tim Jennings and Matt Slauson to contract extensions. But they still have more than 20 players who are due to become free agents.
Not surprisingly, general manager Phil Emery declined to detail the team's priority list, but both he and coach Marc Trestman did answer questions about some of the Bears' key free agents-to-be Thursday at the NFL Combine:
Roberto Garza
The veteran center anchored a revamped offensive line that helped the Bears rank second in the NFL with 445 points and set franchise records with 6,109 total yards, 4,450 passing yards, 32 passing touchdowns, a 96.9 passer rating and 344 first downs. But Garza will turn 35 next month.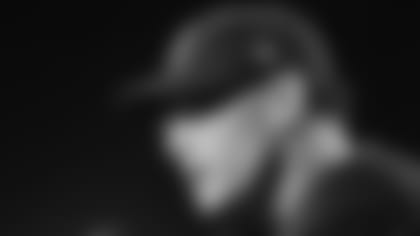 Bears coach Marc Trestman addresses the media Thursday at the NFL Scouting Combine.
"It's a tough business," Trestman said. "We want Roberto back. He knows we want him back. We believe he should finish his career with the Bears. He does so much in our community. He's such a leader in our locker room. He knows how we feel about him.
"We just need to let this thing evolve and hopefully it's going to work out best No. 1 for Roberto because that's No. 1 from his standpoint and it should be. He deserves that respect. And hopefully it will work out for the Bears as well. We certainly want to see him back."
Henry Melton
Coming off the first Pro Bowl appearance of his career, the veteran defensive tackle recorded just five tackles in the first three games in 2013 before tearing his ACL in a win over the Steelers.
Asked how committed Melton is to his rehabilitation, Trestman said: "He's in every day early. He's got to drive in from downtown. If you see him, you'll see that he has been training and he has been working. He's very focused. You'll see he dropped some weight. He looks very good physically.
"He's in there working the knee, but he's been on time. He's working hard with [head trainer] Chris [Hanks]. I spoke with him [Wednesday] for 30-45 minutes and he's committed to getting himself back. He's got work to do there, but he's in a very good place right now. We all understand the situation and we'll see where it goes."
Josh McCown
The backup quarterback appeared in eight games with five starts in 2013, completing 66.5 percent of his passes for 1,829 yards with 13 touchdowns, one interception and a 109.0 passer rating.
"He is an outstanding person," Emery said. "It's always about the team. He's always there to help others. He's always there to try to pull people together. [He has an] unrelenting work ethic."
"We want [McCown] to be a part of our football team," Trestman said. "We recognize how important he is, not just as the backup quarterback but as an influence in our locker room. He's a great leader and he's great for our quarterback room as well, which is the most important room in the building. Josh has got the opportunity to look around. We want him to be able to do that. He deserves that right; I think Phil has said that. And we'll see where this thing goes. But Josh is well aware how we feel about him and that we want him back."
Charles Tillman
After being voted to back-to-back Pro Bowls in 2011-12, the veteran cornerback was plagued by injuries in 2013. He hurt his knee early in the season and then missed the final seven games after tearing his triceps in a loss to the Lions. Tillman turns 33 on Sunday.
"Certainly Charles knows we want him back and we'll just work through it," Emery said. "It's a step-by-step process."
Asked about Tillman's veteran leadership, Trestman said: "It's certainly important. Charles is an extremely unique guy. From the standpoint that he is Man of the Year in the National Football League No. 1, it just goes to his character and his personality and his leadership skills and he's a terrific football player. He played very well certainly when he was healthy."
D.J. Williams
In his first season with the Bears, the veteran middle linebacker recorded 39 tackles, two sacks and one forced fumble in six games before suffering a season-ending chest injury.
Asked what he saw when Williams was healthy, Emery said: "I saw a good football player. I saw a guy that has legitimately very good burst. I saw a player that has good instincts, gets around the ball and plays with a relentless style. We were not displeased with his effort. We were very pleased with where he was going and how he was progressing. Obviously, he had some injuries in camp. He had to get his feet back under him and once he did he started producing at a high level."
Corey Wootton
The veteran lineman, who unselfishly moved from defensive end to tackle in 2013 after the Bears sustained a rash of injuries inside, recorded 31 tackles and 3.5 sacks.
"He's been very good in our locker room," Trestman said. "The endorsement is he shows up every day. He's got a smile on his face and he works."
Like the others whose contracts expire, it's unknown whether Wootton will return to the Bears.
"This is a process and we know going in and we said it coming out of the season, not everyone is going to be back," Trestman said. "That's not relative to Corey here. It's just a comment on this free agency process. We know the locker room is going to be different. There are going to be some guys that are going to be there. There are others that won't. This is what this process is about."