Almost a year after the Bears committed 14 penalties for 104 yards last season in a loss in Detroit, the Lions drew 16 flags for 132 yards last Sunday in an overtime win in Philadelphia.
In both cases, a raucous home crowd helped create a hostile environment for the visiting team, leading to confusion and mistakes that resulted in a slew of penalty flags.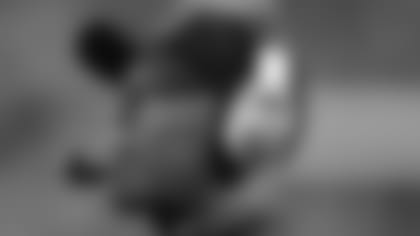 Coach Lovie Smith is hoping that Bears fans make things difficult for the Lions Monday night.
Coach Lovie Smith is hoping that the Bears crowd Monday night at Soldier Field can make the same type of impact the Lions fans did last season at Ford Field.

"They can definitely be a factor," Smith said. "We remember and our football team remembers it was one of the loudest games on the road we've played. Their fans had a lot to do with us not playing our best ball there.

"But that's the beauty of a home-and-home series. We get them this week. We know our fans will be into it. They have helped us win so many football games. I will just say we need the 'fourth phase' crowd like we've never before."

Health update: Receiver Devin Hester (quad) and linebacker Blake Costanzo (thumb) both practiced without restrictions Saturday and are listed as probable for Monday night's game.

"They were both able to do some things today, quite a bit today, so hopefully they'll be ready to go," Smith said.

Cornerback Sherrick McManis (hip) was limited and is questionable. Rookie receiver Alshon Jeffery (hand) did not practice and has been ruled out of the game.

For the Lions, cornerback Jacob Lacey (concussion) is out; cornerback Bill Bentley (shoulder) is doubtful; defensive tackle Corey Williams (knee) is questionable; and defensive ends Cliff Avril (back) and Ronnell Lewis (eye), safety Louis Delmas (knee), tight end Brandon Pettigrew (knee), linebacker Stephen Tulloch (knee) and receiver Titus Young (knee) are probable.

Making friends: Receiver Brandon Marshall is thrilled about being reunited with quarterback Jay Cutler and quarterbacks coach Jeremy Bates, both of whom he worked with in Denver. But Marshall has also enjoyed meeting new teammates such as Hester.

"We encourage each other," Marshall said. "We hold each other accountable. We compete. Whenever there's competition, it makes the whole group better. It doesn't matter if it's Ping-Pong or if it's on the field running a comeback route, we compete and we hold each other accountable.

"Devin gets on me when I need it, and vice versa. The biggest thing is encouragement. There are times when I may be down and he's like, 'Hey, B, keep going, keep going.' We have a great group of guys that really play for each other. This is really a special group."

Stepping up: Tight end Kellen Davis has become more involved in the Bears passing game in the last two games, recording his two highest receiving totals with a career-high 62 yards on three receptions in Dallas and 26 yards on two catches in Jacksonville.

"Kellen has worked extremely hard, and we're trying to make sure that we have some things for him each week in the passing game," said offensive coordinator Mike Tice.

"We think he's a very good blocker and big and strong and athletic and can run. Hopefully his package and his production in the passing game will grow as we move forward."