Bears coach Marc Trestman will be honored by the Illinois Fatherhood Initiative (IFI) at its annual Fatherhood Dinner Celebration June 11 at the Union League Club of Chicago.
In Trestman's first season with the team last year, the Bears ranked second in the NFL with 445 points and set franchise records with 6,109 total yards, 4,450 passing yards, 32 passing touchdowns, a 96.9 passer rating and 344 first downs.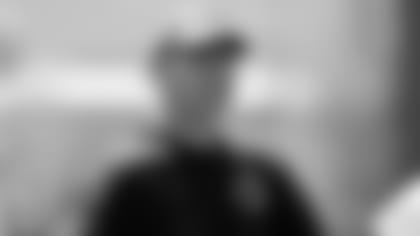 Bears coach Marc Trestman addresses his players after a recent OTA practice at Halas Hall.
The Minnesota native was hired by the Bears after spending the previous five seasons in the Canadian Football League as head coach of the Montreal Alouettes, compiling a 59-31 record and winning back-to-back Grey Cup championships in 2009 and 2010.

Prior to his tenure in the CFL, Trestman spent 17 seasons as an NFL offensive coordinator and position coach. He developed a reputation for molding quarterbacks such as Rich Gannon, Steve Young and Jake Plummer, and helped five different teams earn playoff berths.

In 2010, Trestman authored a book titled: "Perseverance: Life Lessons on Leadership and Teamwork". It's a mix between Trestman's ideologies and philosophies on team-building, trust and leadership, as well as anecdotes, quotes, funny stories, and nuggets of wisdom which provide an insight into the secrets of his success.

Trestman and his wife Cindy have two daughters, Sarahanne and Chloe.

IFI will also honor 12 local area fathers, selected from the 2014 IFI Chicago White Sox Fatherhood Essay Contest, from over 10,000 essay submissions. There will be three fathers, three stepfathers, three grandfathers and three father-figures, and some of the essayists will also read their award winning essays.

IFI is the country's first state-wide, non-profit fatherhood organization whose mission is connecting children and fathers by actively engaging fathers in the education of children. Strategic alliances with private, non-profit, and governmental organizations allow IFI to create and strengthen existing child/father programs.