After spending the first two weeks of the Bears' offseason program in the classroom, first-year offensive coordinator Aaron Kromer was finally able to work with Jay Cutler on the field during this week's minicamp.
"Jay's a very talented quarterback and we're excited to work with him," Kromer said. "We think we have weapons to throw to. We have guys to hand it off to. So we feel good about the talent that we have."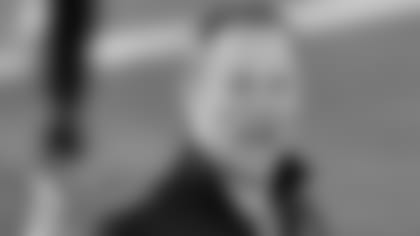 New Bears offensive coordinator Aaron Kromer makes a point during minicamp.
Hired by new head coach Marc Trestman—the two worked together with the Raiders from 2001-03—Kromer joins the Bears after spending the last five seasons as an assistant with the Saints.

On Thursday, Kromer declined to compare Cutler with New Orleans quarterback Drew Brees, a seven-time Pro Bowler who led the Saints to a Super Bowl championship in 2009.

"Every player is different," Kromer said. "You can talk about offensive linemen, you can talk about quarterbacks, you can talk about receivers, running backs. They're all different. So to compare one player to another is unfair. Jay's had his ups and downs in his career, and we're looking for ups."

In four seasons since being acquired in a blockbuster trade with the Broncos, Cutler has become the Bears' all-time leader in passer rating (81.9) and completions (1,034) and ranks second in touchdown passes (82) and passing yards (12,292). But he's led the team to only one playoff win.

Cutler is in the process of learning his fourth different offense in five seasons with the Bears, having previously worked with coordinators Ron Turner, Mike Martz and Mike Tice. The system being installed by first-year head coach Marc Trestman is an up-tempo scheme that's designed to limit sacks by focusing on pass protection and getting the ball out of the quarterback's hands.

"What we're trying to do is put an efficient offense in that we can move the football and score touchdowns," Kromer said. "It's our responsibility to teach the offense to Jay. Jay's a very intelligent person. He knows football. He just needs to use our terms and come up with a plan to learn it, and he is. I believe that with the in-depth meetings that we've had that he's further along than we thought he'd be at this point."

Trestman also likes how Cutler has processed a high volume of information in a short period of time.

"I've just been completely impressed with his level of football intelligence and understanding and his ability to articulate and communicate in meetings," Trestman said.

Cutler has been sacked 148 times in 56 games with the Bears, a rate the new coaching staff is determined to reduce. Many of those sacks were the result of shoddy blocking; others came because Cutler held onto the ball too long, trying to make something out of nothing.

"You create plays that ask him to get rid of the ball quicker," Kromer said. "When you ask him time after time to throw the ball down the field without changing the protection scheme, he's going to hold the ball at times. We need to get the ball out of our hand quickly. We need to do a good job of inside/out protecting him and just get a plan of attack for him."

That plan includes calling plays that Cutler feels comfortable with and enhance his strengths as a player.

"He's had success in this league," Kromer said. "We went back and found the things that he does well, even back to 2008. We're finding the best things for him and what fits our personnel in the receiver corps and the running back corps and we'll help him get the ball out that way."

Roster move: The Bears on Friday signed kicker Austin Signor to a three-year contract.

Signor participated in this week's voluntary minicamp on a tryout basis. He played collegiately at Iowa (2006-07) and Eastern Illinois (2008-09), earning first team all-conference honors as a senior in 2009 when he led the Panthers with 76 points, connecting on 14-of-22 field goal attempts.