Sunday's heartbreaking loss in Minnesota still stings. But when the Bears return to work Thursday at Halas Hall, their sole focus will be on Monday night's home game against the Cowboys.
"My message to the team [Monday] was, 'In the National Football League, all we can control is what we can control and that is we have a game on Monday night against the Cowboys and we've got to be prepared each and every day to win the game," said coach Marc Trestman.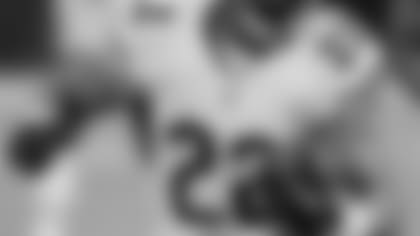 Matt Forte and the Bears will look to snap a two-game losing streak Monday night when they host the Dallas Cowboys at Soldier Field.
"We can't be looking ahead. We can't be hearing the voices that are telling us anything other than that. I think it's good for us to be playing on Monday night. I think it's a good carrot for us this week in terms of playing a game and being at home. I think that'll be good for our football team."
Having lost six of nine games since their 3-0 start, the Bears (6-6) are one game behind the Lions (7-5) in the NFC North. Because Detroit owns the tiebreaker due to sweeping the season series, the Bears have to make up two games on the Lions with four remaining to win the title.
After hosting the Cowboys (7-5), the Bears will visit the Browns (4-8) and Eagles (7-5) before hosting the Packers (5-6-1) to close the season. The Lions will visit the Eagles (7-5), host the Ravens (6-6) and Giants (5-7), and then finish by visiting the Vikings (3-8-1).
All that matters to the Bears at this point, however, is beating the Cowboys Monday night.
"That's all we can control," Trestman said. "We can't worry about all the other things that are going on. There's a whole lot of football to be played. We show signs of having enough to finish, of playing offensively well enough to finish, of doing things we need to get done.
"We've shown that periodically. We've shown signs of that. We've won games like that. But we haven't done it on a consistent basis over the last month. We've got to start on Monday night and do that. That was the message [to the team]: Let's worry about what we can control and that's being at our best on Monday night against the Cowboys."
Odd year: It's been a season of missed opportunities for the Bears, who have lost games by margins of 8, 8, 4, 2 and 3 points. They've defeated three 2012 playoff teams (Cincinnati, Green Bay and Baltimore), but have lost to three last-place teams (Washington, St. Louis and Minnesota).
Breaking the season into quarters, the Bears have regressed from 3-1 to 2-2 to 1-3. They're 4-2 at home and 2-4 on the road, 3-0 in prime-time games and 3-6 in contests beginning at noon.
Pep in his step: In his two years on the job, Bears general manager Phil Emery hasn't seen Julius Peppers play any better than he did in Minnesota Sunday, when the veteran defensive end recorded 7.5 tackles, including a season-high 2.5 sacks.
"I thought Julius played his finest game this past week since I've been back with the Bears," Emery said during a Q-and-A session with fans Tuesday on ChicagoBears.com. "It was an outstanding performance. On the plane back to Chicago, I let Julius know how impressed I was with his play in the game."
Stopped short: Despite averaging 400 yards of total offense over their last five games, the Bears have struggled mightily in short-yardage situations.
When needing one yard for a touchdown or first down during that span, the unit has been successful on only 6-of-16 attempts (37.5 percent). That includes 0-of-3 on third-and-one against the Vikings. On six plays from the 1-yard line over the last five games, Michael Bush has scored one touchdown and been stopped five times.
"All five [offensive linemen] haven't connected in putting together the proper step and footwork and angles," Trestman said. "I'm not going to pin it down to one guy because nobody in that room would want me to do that. But everybody's got to be working in the same direction on these short-yardage plays and we've taken turns in not getting that done.
"That's something we have to get better at. It's difficult to do in practice. We try to simulate that as much as we can with cards and walkthroughs. We just haven't been able to take it to the game on a consistent basis, particularly lately. That's got to be a point of emphasis because we've got to be able to run the ball on third-and-one and make first downs."