News, notes and nuggets from a busy Saturday at Bears training camp:
After non-contact workouts Thursday and Friday, the Bears practiced in pads for the first time Saturday.
"The effort was really good," said coach John Fox. "It's always sloppy the first day because they haven't done it for a whole year. But the effort was good, the intent was good, and we'll get a little better on the technique as we go."
Water world: After exiting Friday's practice due to dehydration, rookie defensive tackle Eddie Goldman returned to action Saturday.
"I'm feeling great," said the second-round pick from Florida State. "I got with the trainers. They just basically told me to drink more fluids. I'm good."
Opportunity knocks: Veteran left tackle Jermon Bushrod was given the day off, enabling 2014 seventh-round pick Charles Leno Jr. to take some valuable first-team reps.
"It's happened before in the past with injury," Fox said. "It might be a veteran day. There are all kinds of reasons. Guys are looking for opportunities. All of a sudden if there's an injury during the season you have to lean on a guy. It's next man up. You find players that way because they get an opportunity."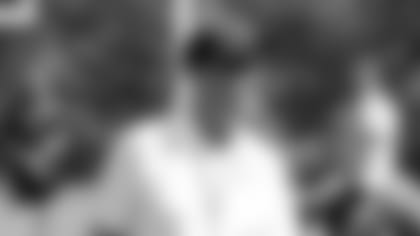 Head Coach John Fox during practice.
On the shelf: Rookie receiver Kevin White remains sidelined with a shin injury. Asked if the first-round draft pick has been doing cardio work, Fox said: "It's fair to say he's doing it at some level, some phase, but he's making progress."
Even though White has been unable to participate, he has stayed engaged in practice.
"It's good to be out there playing and getting those reps, but he's doing a great job of taking notes and getting all of those mental reps," said fellow receiver Eddie Royal. "Every time I come to the sideline he's talking to me, asking me questions. So as far as the learning curve, I think mentally he'll be there."
Turning heads: Second-year pro Ego Ferguson has impressed coaches while working with the No. 1 defense at end.
"I've been pleased with what he's done," Fox said. "He works hard in the classroom, he works hard in the weight room and he works hard out here. He's lined up with the first unit at this point and I've been pleased with his progress."
Pumped up: The Bears play loud music during 7-on-7 and 11-on-11 drills throughout practice but not when they're working on specials teams, "because there are two guys trying to coach 22 guys," according to Fox.
"We play music during offense-defense primarily because it makes them communicate better," said the Bears coach. "They have to have verbal and visual signals. It makes them focus a little bit better. We'll start ramping that up as we go, but right now it's tough when you have two coaches coaching so many guys."
Fan of Fox: First-year Bears safety Antrel Rolle has enjoyed working with Fox.
"I've been a fan of his coaching for numerous years now," said Rolle, who joined the Bears this year after spending his first 10 NFL seasons with the Cardinals (2005-09) and Giants (2010-14). "He's a very personable guy. He's very straightforward. And he allows you to be men. He expects you to be critical of yourself, he expects you to be critical of others and more importantly he expects you to go out there and give your best and that's what you're going to give him."
Together again: Safety Ryan Mundy is excited about reuniting with Rolle, his teammate with the Giants in 2013.
"He's a vocal guy and one thing that I can say about Antrel is he's a football player," Mundy said. "He's not going to wow you with his speed or athleticism, but he's always in the right place at the right time and he makes a lot of big plays.
"That's the one thing that really stood out to me playing with him two years ago in New York is he's always in the right place at the right time, and he's not only a leader through his actions but he's also a vocal leader and guys really rally around him."