INDIANAPOLIS – A change of scenery and a different opponent after three weeks of training camp gave the Bears a boost Wednesday.
"I thought it was great," coach John Fox said after the Bears participated in the first of two joint practices with the Colts at their training facility in Indianapolis. "The Colts did a great job getting it organized. I thought it went very well, very good work."
The Bears offense faced the Colts defense on one field and the Bears defense squared off versus the Colts defense on an adjacent field. The two teams will practice together again Thursday before meeting in a preseason game Saturday night at Lucas Oil Stadium.
"Everyone has different styles," Fox said. "They tend to be a quicker and faster style of defense. I thought that was good work for our guys to see, and it's nice to hit on someone other than your own team. I thought it was good work and we'll be able to coach off of it and watch the tape tonight and hopefully get better and repeat it tomorrow."
While the Bears are trying to rebound from a dismal 5-11 season with a new coaching staff, the Colts won the AFC South with an 11-4 record and reached the AFC Championship Game last season, defeating Fox's Denver Broncos in the divisional playoffs.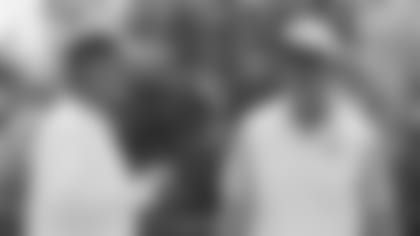 Head Coach John Fox (right) with Colts Head Coach Chuck Pagano (left).
Fox looks at the joint practices as a measuring stick for the Bears.
"We played them a year ago and lost to them in the playoffs," he said. "I pretty much know their roster and what they're capable of. They're a good football team and that's all part of it; getting the extra work and watching how they do things. You have different styles of offense and defense and that's good practice for your team. I thought it was a productive day."
Quarterback Jay Cutler didn't throw any interceptions in 7-on-7 or 11-on-11 drills. But with top receivers Alshon Jeffery (calf) and Kevin White (shin) not practicing due to injuries, the Colts defense clearly outplayed the Bears offense.
"I thought they got after us; they won the day," Cutler said. "We've got to fix a lot of things. I've got to fix some stuff, O-line, receivers, so we'll have some good film to watch tonight and we'll make some corrections for tomorrow."
The absence of Jeffery and White gave some of the Bears' young receivers a chance to get more reps. Undrafted rookie Cameron Meredith provided the play of the day, splitting two defenders to catch a touchdown pass down the left sideline from Jimmy Clausen.
"I would like to work with Alshon and Kevin, but it is what it is," Cutler said. "We're shifting some guys in there. Some guys are getting some work with the ones and some of the threes are getting work with the twos, so it's a good thing we're seeing everybody right now."
Unlike some other joint practices around the league—like the Cowboys and Rams—there were no skirmishes or fights between the Bears and Colts Wednesday.
"I don't think [Fox] had to say anything with this group and I know [Colts coach] Chuck [Pagano] and their group; they've got a great group of guys as well," Cutler said. "We knew we'd come in here and get some good work, thud it up and move on and that's what we did."
After practice, players milled around the field, visiting with their buddies on the other team.
"It's a tight fraternity of people," Fox said. "You have friends all over the league whether you're a coach or player. So it's good to see guys you know and have different guys to compete against that aren't your own teammates."