If Jay Cutler can't play next Monday night in San Francisco, the Bears feel that they're much better equipped to replace him with veteran Jason Campbell than they were last year.
Playing the entire second half after Cutler exited Sunday night's 13-6 loss to the Texans with a concussion, Campbell completed 11 of 19 passes for 94 yards and a 70.9 passer rating.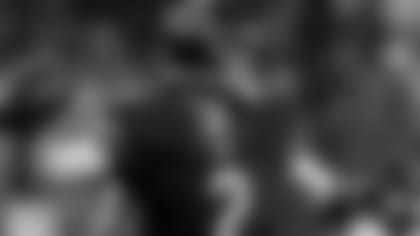 Jason Campbell started 70 of 71 games played in six NFL seasons before joining the Bears this year.
"Jason Campbell is more than capable," said receiver Brandon Marshall. "He came in and did an amazing job and had control of the offense. He really got us into some good situations."

Campbell signed a one-year contract with the Bears in March after starting 70 of 71 games played in six NFL seasons with the Redskins (2006-09) and Raiders (2010-11).

Last year Campbell led the Raiders to a 4-2 start before breaking his collarbone, connecting on 100 of 165 passes for 1,170 yards with six touchdowns, four interceptions and an 84.2 passer rating.

When Cutler sustained a broken thumb last season, Caleb Hanie struggled mightily in losing all four of his starts before being replaced by journeyman Josh McCown.

"That's why we got Jason," middle linebacker Brian Urlacher said following Sunday night's loss at Soldier Field. "We're better off now than we were last year at this time."

Going deep: Campbell provided the Bears' lone offensive highlight against the Texans, completing a 45-yard pass to Marshall down the left sideline to set up Robbie Gould's 24-yard field goal.

"Not only did he make amazing throws, that was a check. He called that," Marshall said. "He saw something he liked and got us in the right position. He knew we needed a play and he wanted to put it up and see if I could make a play for him. I was happy to do it on that one."

Marshall outleaped Texans cornerback Jonathan Joseph for the ball an instant before safety Glover Quin arrived.

"Everyone knows that Brandon can go up and get the ball," Campbell said. "I just want to give him a chance on that. I tried to hold the safety with my eyes as long as I could and let him beat the corner. I wanted to give him a ball that he could go up and get."

Practice makes perfect: If Cutler is unable to play against the 49ers, it no doubt would be beneficial for Campbell to get the majority of the first-team reps in practice, though he has worked regularly against the Bears' No. 1 defense while operating the scout team.

"You want to know as soon as possible to let that guy start getting reps," said coach Lovie Smith. "But I also think that when you set up your roster you have to keep that in mind on your backup quarterback on what he can handle as far as getting mental reps and him taking advantage.

"I still think you can get an awful lot going against the best defense in the league also each day. You're still throwing the ball to receivers and running plays, so there's a lot you can get from that. You're in all of the meetings and you are getting some reps. Jason Campbell is a student of the game and we felt we real good about him being able to come in if he was called upon."

Another arm: With Cutler's status uncertain, the Bears could add a third quarterback to their 53-man roster.

"We always have to look ahead for situations like that," Smith said. "We have a list of guys. First, you look at your roster. Matt Blanchard is on our [practice squad] right now. He's an option. But every available quarterback is an option for us if we felt like we needed to go in that direction."

One logical possibility would appear to be McCown, who performed well while starting the Bears' final two games last season and remained with the team through training camp.

"We're looking at all options at the quarterback position as I said," Smith said. "He's one of them. He's played good football for us. We're familiar with him."