INDIANAPOLIS – The Bears' faith in promising running backs Jeremy Langford and Ka'Deem Carey was a key factor in their decision not to offer a contract to veteran Matt Forte.
"What allowed us to make that decision—albeit a very difficult decision—was the confidence we had in our younger backs," coach John Fox said Wednesday at the NFL Combine.
Selected by the Bears in the fourth round of last year's draft out of Michigan State, Langford was productive as a rookie. He rushed for 537 yards and a team-high six touchdowns on 148 carries and also caught 22 passes for 279 yards and one TD.
When Forte was injured last season, Langford helped lead the Bears to back-by-back wins by generating 142 yards from scrimmage (72 rushing, 70 receiving) against the Chargers and 182 yards (73 rushing, 109 receiving) versus the Rams while scoring three touchdowns.
In the process, he became just the second Bears rookie to compile at least 70 yards rushing and 70 yards receiving in multiple games, joining Hall of Famer Gale Sayers.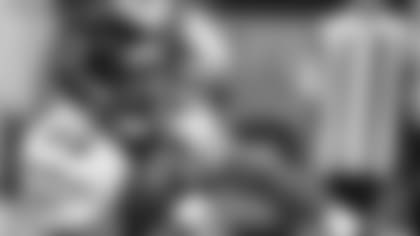 Jeremy Langford rushed for 537 yards and six touchdowns on 148 carries as a Bears rookie in 2015.


"I have a lot of confidence in [Langford's] physical ability, his speed, his vision, his acceleration, and I feel he's going to get a lot better going forward," said general manager Ryan Pace.
The Bears are also high on Carey. The 2014 fourth-round pick from Arizona impressed the coaching staff with his tenacity last year while rushing for 159 yards and two TDs on 43 carries in 11 games. He scored two touchdowns in a win over the Buccaneers and rushed for a season-high 56 yards on 14 carries in a victory over the Rams.
"We're here [at the Combine] and sometimes a lot gets put into height, weight, speed, 40," Fox said. "A lot of times it's hard to measure what's behind that left nipple and between your ears. I think he's a guy that, after contact, is pretty special. That's something I know that sticks out for me. I enjoy watching him run. Even looking at cut-ups just recently, there are a few of those, a couple of them in St. Louis that I recall."
Pace is confident that Langford and Carey both will continue to improve.
"We see them as ascending players," Pace said. "I think [running backs coach] Stan Drayton has done a great job with that position group. Part of this a lot of times is the confidence we have in player development with our coaches. That's huge, and that's huge for the health of a franchise, is developing your younger players and sometimes that involves some tough decisions along the way. But I am happy with those guys. They're ascending young players. That doesn't mean we can't still add to that group, but right now we feel good about it."
The Bears announced Feb. 12 that they would not extend a contract offer to Forte, who is slated to become an unrestricted free agent March 9. Since arriving in Chicago in 2008 as a second-round draft pick from Tulane, Forte leads all NFL players with 12,718 yards from scrimmage and ranks fourth with 8,602 yards rushing. He also tops all running backs with 487 receptions and 4,116 receiving yards.
Forte ranks second in Bears history behind Hall of Famer Walter Payton in rushing yards, receiving yards by a running back, yards from scrimmage, 100-yard rushing games (24), scrimmage yards per game (106.0) and games with at least 150 yards from scrimmage (25).
Some wondered why the Bears didn't wait until Forte's value on the open market was established before making a decision on his future. But given what he accomplished and what he meant to the organization, Pace said he felt that the team needed to treat him with "the respect he deserves."
"I look at this like a lot of other great Bear players like [Charles] Tillman or [Lance] Briggs," Pace said. "You treat them with respect and I think that meant handling that with urgency, and once we made a decision, telling Matt as soon as possible.
"We met with him after the season and I promised him, 'Hey, when we come to a decision, we're going to tell you as soon as possible for you and your agent,' and that's how it played out."