The Bears offense hasn't been as productive as it was last season. But with injured players trickling back onto the practice field, coordinator Aaron Kromer sees tangible evidence that will change.
"We're in a situation where we expect to score more points," Kromer said Thursday. "We're getting healthier and healthier on offense the further we get into the season, and that's what I think is going to make a difference in our progress and our improvement. You can see it in practice."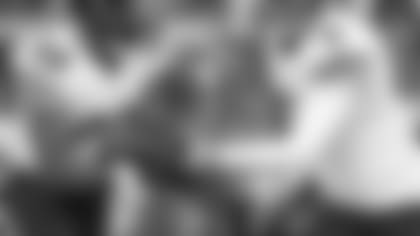 Kyle Long and Jay Cutler hope to help re-ignite the Bears offense Sunday against the Falcons.
Last season when the Bears ranked second in the NFL with 445 points and compiled a franchise-record 6,109 total yards, quarterback Jay Cutler was the only starter who missed games due to injury. This year, linemen Roberto Garza, Matt Slauson and Jermon Bushrod have already combined to sit out eight contests.
But Garza and Slauson are back practicing without restrictions, as are Pro Bowl receivers Brandon Marshall and Alshon Jeffery, both of whom were slowed by leg injuries they sustained in a Week 1 loss to the Bills.
"The thing you don't always see is the trickle-down of an injured receiver that's not running as fast as he normally does," Kromer said. "All of a sudden it becomes bad pass protection because it takes a click longer. When you're an efficient route-runner and you're getting open quick, now the protection looks great and it might not have been as good as it was the other day.
"So it's a combination of 11 guys playing together, and you can see us growing in practice this week, especially just having all the receivers back healthy, having the guys playing together more. You can just see an efficiency in the offense that you haven't seen in the past."
Coach Marc Trestman also has noticed a difference this week at Halas Hall as the Bears prepare to face the Falcons Sunday in Atlanta, looking to snap a two-game losing streak.
"I've been in a lot of different offenses and I feel strongly that we're practicing extremely hard and extremely fast," Trestman said. "We're certainly looking forward to that resonating, and it has a lot of the time. [But] we've really stubbed our toe with the pre-snap penalties and the turnovers stopping ourselves from moving the football."
The Bears' production has declined across the board on offense from last season to this year, including points (27.8 per game to 23.2), total yards (381.8 to 348.6), rushing yards (114.3 to 102.4) and passing yards (267.6 to 246.2).
"Obviously, we're extremely disappointed," Trestman said. "We haven't even come close to playing the game that we want to play. We've certainly seen a resemblance of the team and the offense we want to become, but we haven't performed at that level and we're honest with ourselves about it.
"What we're doing about it is we're working very hard to try to correct that, to correct the things that have stopped us, whether it's something in a route, fundamentals in the run game or the timing of what we're doing. We've collectively come together as coaches and players. There's a lot of pride in that room. Guys want to do it right.
"We want to do it for ourselves and for our fans and we're working hard at it. I think we're seeing an improvement in the speed of our practices because of the recent health of our guys."
Trestman and his staff aren't the only ones who are disappointed with the offense's lack of success, especially with the Bears being outscored 34-3 in the second half of back-to-back losses to the Packers and Panthers.
"We as players feel the same way," said running back Matt Forte. "We talked about it, and Jay talked to the offense about it, that we know we're better than this. Statistically, we're just not showing it. The yards in some of the games are there and then the points aren't there. We definitely need to score more points.
"We can't keep shooting ourselves in the foot. The main thing for us to do is play smart, not have the stupid penalties and then pay attention to our technique and details during the week so that it comes second nature to us during the game."