After returning to the practice field Sunday at Halas Hall, Bears coaches and players lamented the loss of linebacker Lance Briggs, who was placed on injured reserve Friday.
"Lance is obviously one of our leaders," said defensive coordinator Mel Tucker. "He's a tremendous player. He's been in this league a long time and he will be missed."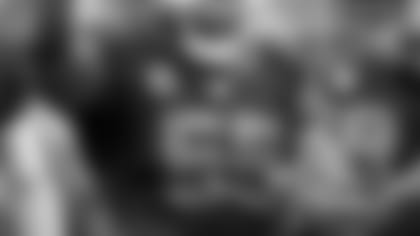 Lance Briggs
Briggs, who is in the final year of his contract, will miss the rest of the season after suffering a groin injury last Sunday in a win over the Buccaneers. Selected by the Bears in the third round of the 2003 draft out of Arizona, Briggs was voted to seven Pro Bowls in 12 seasons.

Briggs helped the Bears win three division championships and one NFC title, reaching Super Bowl XLI in 2006. His 170 career starts are the fifth most in franchise history behind Walter Payton (184), Olin Kreutz (183), Brian Urlacher (180) and Mike Singletary (172).

"There are a lot of things about Lance to like," Tucker said. "Obviously he's a playmaker and he's got a ton of experience. I just thought he was a good teammate and has always been willing to help the younger guys. And it was important to him.

"He's done it for a long time. The average career is what, 3.5 years, something like that. So for a guy to be able to do it for that long at such a high level, he's a special player."

Defensive end Jared Allen revealed Sunday that being able to play on a defense with Briggs factored into Allen's decision to sign with the Bears as a free agent.

"He's a big presence on that field, not only playing against him but playing with him," Allen said. "When he's out there, there's a lot of stuff that isn't in the stat sheet that he does so well from a communication standpoint. Just his overall football knowledge, his football IQ is very high.

"It's nice when you've got a guy like that out on the football field with you, so he's going to be missed. He was one of the reasons why I came here, was to play with him."

Briggs ranks third in Bears history with six defensive touchdowns and second with five interception return TDs, tied for the third most among NFL linebackers. He led the team in tackles five times, compiling at least 100 stops in nine straight years from 2004-12.

Before missing seven games last year with a shoulder injury and eight contests this season with rib and groin injuries, Briggs sat out only four games over his first 10 seasons from 2003-12.

"It's tough," said coach Marc Trestman. "It's leadership; it's experience. I'm just disappointed for him personally. It's been a rough couple of years for him with the injuries that he's had.

"When he's played he's played extremely hard and he's been an important element of this organization not only the last couple years since I've been here but throughout his career. He's been an influential leader in the locker room and a tremendous football player on the field."

With Briggs on injured reserve, it appears that second-year pro Jonathan Bostic will get an opportunity to step into the weakside position on a full-time basis.

"Jon has good instincts," Tucker said. "He's got good speed. He runs and he hits, and he's strong at the point of attack. He has good movement skills in coverage."

Trestman hopes to see Bostic continue to develop over the final four games of the season.

"He plays hard," Trestman said. "He plays fast. He's continued to get better. He's making calls. He's doing the things. He's just got to continue to grow and, like a lot of our young guys, just get better. But he's becoming very productive in there.

"He's got great quickness and suddenness to be able to react and respond in zone coverages as well as fit the line of scrimmage. He's a very sudden player and instinctive player in that regard."