New Bears head coach Matt Nagy officially introduced his three coordinators to the media Thursday, with Mark Helfrich (offense), Vic Fangio (defense) and Chris Tabor (special teams) following him to the podium. Here are some highlights of the nearly hour-long session:
Nagy opened by discussing the research and interviews that led to the hires. "For me personally it's been a fun process," he said. "To really dig down deep and get to see what they're all about, who they are, and the last week here being with them and talking football has been great."
Nagy was determined to hire coordinators who are great people and coaches who will work well together. "There are going to be ups and downs," he said. "If the offense struggles one week and the defense is performing, or vice versa and the special teams wins us a couple ball games, we're all in this together. The [wins] and losses all work hand-in-hand. How do we react to that?
"Well, each and every one of these guys has a lot of experience in that world, and so for me, being a young coach coming into it for the first time, surround myself with people that have strong character and have been through those situations and know how to deal with it. I'll be going to these guys for advice, and that's OK because it's only going to make me better.
"Just getting these guys on board is only going to make this team better. It's only going to make me better as a coach, and that was my No. 1 goal going into it, so I'm excited."
MARK HELFRICH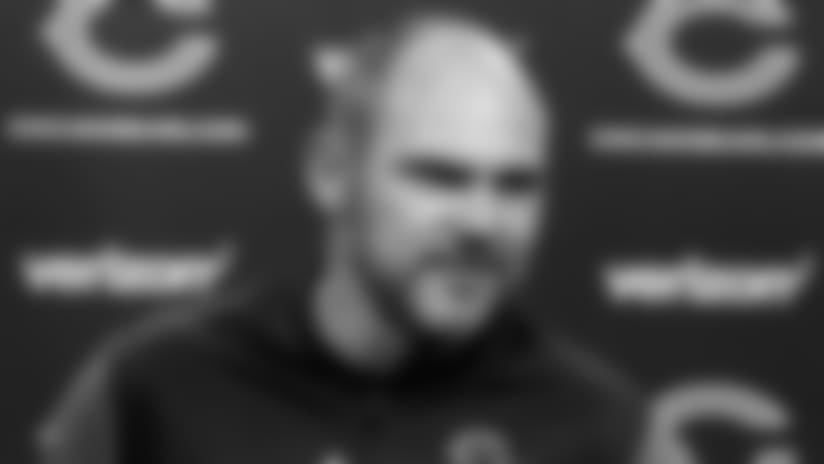 Following Nagy to the podium, Helfrich expressed excitement about the chance to help improve the Bears offense and develop promising young quarterback Mitchell Trubisky.
"It feels like we're close as a culture around here," Helfrich said. "I know that's something we're going to work hard on offensively to match where we're going to be and have been defensively and on special teams. It just feels close and I want to be part of that, to put it over the top."
Helfrich joins the Bears after successfully developing multiple quarterbacks at Oregon, first as offensive coordinator/quarterbacks coach from 2009-12 under Chip Kelly and later as head coach from 2013-16. Helfrich's prized pupil was Marcus Mariota, who became the first Oregon player to win the Heisman Trophy and was chosen with the second pick in the draft by the Titans.
Asked what makes Helfrich so adept at getting the most out of quarterbacks, Nagy said: "Just understanding how to handle them, how to treat them. Knowing how to be a teacher to them in the classroom. You have to be able to handle them the right way and understand where they're at and how they develop. There's going to be some times you have to get on them a little bit. There's going to be tough love. But really when it comes down to it, teaching details and fundamentals, and he has that. That's easy to tell."
Nagy called Helfrich an intriguing and fun candidate. "As you could tell from some of the things we did in Kansas City offensively, we were trying to be a little bit out of the box and new-wave type of stuff, so it was easy when I was approached and started researching different names that he was the guy," Nagy said. "It's been great learning more and more about him each day and I'm really excited about what we can do offensively and I think we'll work well offensively."
VIC FANGIO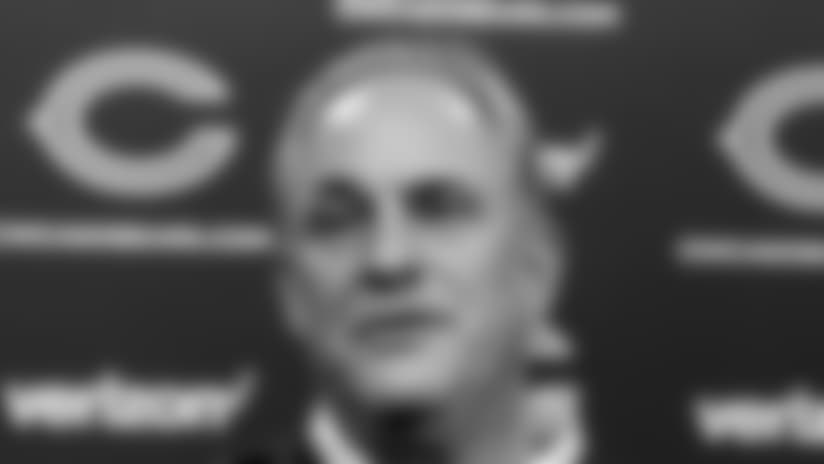 The lone coordinator to return to the Bears, Fangio opened his media session by joking to the reporters he has entertained on a weekly basis: "Alright, let's continue this lovefest."
Fangio's return provides a major boost for the Bears given the success he's had molding the defense and the continuity he will provide. The veteran coordinator helped transform a unit that had ranked 30th in the NFL in total yards in each of the two years before he arrived into a defense that finished 14th in 2015, 15th in 2016 and 10th in 2017.
This past season Fangio led a unit that ranked ninth in the league in fewest points allowed and recorded 42 sacks, the second most by the Bears in the past 20 years. Fangio's performance in 2017 was even more impressive given that he lost several key players throughout the season, including safety Quintin Demps; outside linebackers Leonard Floyd, Pernell McPhee and Willie Young; inside linebacker Jerrell Freeman; and defensive end Mitch Unrein.
Asked what assurances he needed to return as defensive coordinator, Fangio said: "I just had to feel comfortable with everything; with who the head coach was going to be, the continued direction of the team as far as where we were headed roster-wise, things of that nature."
Nagy was determined to retain Fangio, and the two clicked immediately. "To me it was really simple," Nagy said. "The numbers speak for themselves. Here's a guy that has been in this league for a very long time and the production is there—talking about a top-10 defense year-in and year-out, a guy that me as a head coach will be able to learn defensively some of the ins and outs of what defenses do well.
"The biggest thing going into it with Vic was just trying to figure out his philosophy, my philosophy, how it meshes together, can we make it work as people, as peers and as friends, and it was easy to tell right away when we met that that was going to happen. I'm excited to keep him on board and really looking forward to it."
CHRIS TABOR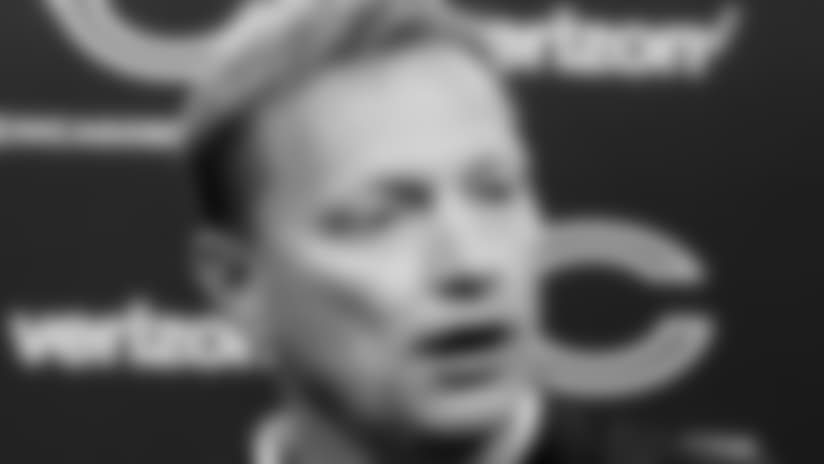 Tabor expressed excitement in returning to the Bears for a second stint, having served as assistant special teams coach under coordinator Dave Toub on Lovie Smith's staff from 2008-10. Tabor arrives after spending the past seven seasons as the Browns special teams coordinator.
"You're talking about a coach that is succeeding on so many levels and at so many different areas of special teams," Nagy said. "The numbers are right there."
Tabor is focused on replicating the success the Bears had on special teams during his first tenure with the team. "What you want to establish and kind of our philosophy is we want to be an aggressive unit that plays with good judgment," Tabor said. "I don't want the [opposing] coordinator going home at five o'clock at night thinking he doesn't really have to worry about anything, and I think there are some weapons here that can make a coordinator stay up at night."
Tabor insisted he's not nervous that the Bears' three specialists—punter Pat O'Donnell, kicker Mike Nugent and long-snapper Andrew DePaola—are all due to become free agents.
"My last stint I worked for four head coaches, five general managers and two owners," Tabor said. "There was a lot of turnover. And with that the rosters always changed, so I think that as a coach you have to be able to adapt. One thing that we say is adapt or die. The dinosaurs couldn't figure it out and they became extinct. Coaches, they don't figure it out, they get fired. So we'll adapt, and I'm looking forward to the challenge of it."