Bears cornerbacks Tim Jennings and Kyle Fuller will face a big challenge Sunday, literally and figuratively, when the Tampa Bay Buccaneers visit Soldier Field.
The Buccaneers boast two huge playmaking receivers in 6-5, 231-pound rookie Mike Evans and 6-5, 230-pound veteran Vincent Jackson. Jennings is 5-8, while Fuller is 5-11.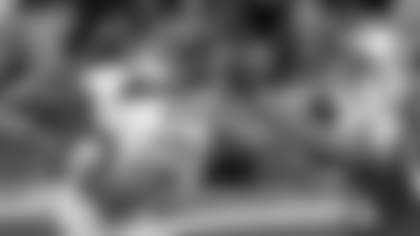 Bears rookie cornerback Kyle Fuller intercepts a pass in a Week 3 win over the New York Jets.
Evans, the seventh pick in this year's NFL Draft, is the reigning NFC offensive player of the week after catching seven passes for 209 yards and two touchdowns last Sunday in a 27-7 win over the Washington Redskins. He is the first rookie receiver since Randy Moss in 1998 to have three straight games with at least 100 yards and one touchdown.
"He's a big-play guy," said coach Marc Trestman. "He's a built-up speed guy. He's gotten behind some people. Mike is continuing to improve and has got big-play ability, no doubt about it."
Evans has caught 46 passes for 794 yards and seven TDs this season, while Jackson has added 43 receptions for 561 yards and two TDs. In his last appearance at Soldier Field, Jackson caught seven passes for 165 yards and 1 TD on Nov. 20, 2011 when he played for the San Diego Chargers.
If and when Fuller covers Evans, it will be a match-up of highly-drafted NFL rookies. Selected by the Bears with the 14th pick in this year's draft, Fuller had three interceptions in the first two games of the season but has had none since that point while battling through injuries.
"I think he's still making tremendous progress as a player and doing some things, the little details and things that we talk about each and every day," said defensive coordinator Mel Tucker.
"To his credit, he's played through some pain and some injuries. He's got a cast on his hand. He had a hip-pointer at some point that caused him to lose some time, but he never complains. He never makes any excuses for anything. He just goes out and works each and every day and then he goes in the game and he competes."
Tucker knows that the key to limiting Tampa Bay's passing game will be to generate a consistent rush against quarterback Josh McCown, who played for the Bears last season.  
"It's going to be important to get pressure on him," Tucker said. "That's going to be a big part of the game whether it's with four or with five or with six, whatever it takes, and to have really, really good coverage behind it whatever we decide to do. But that's going to be important.
"He's a rhythm passer. He does a really nice job with that, so we have to make sure we try to disrupt his timing and his rhythm and the receivers as well."
This season McCown has completed 85 of 134 passes for 1,009 yards with six TDs, six interceptions and an 82.6 passer rating. In his second start after returning from a thumb injury last Sunday, he connected on 15 of 23 passes for 288 yards with two TDs and a 137.5 rating.
When Trestman watched tape of McCown, he sees the same quarterback who stepped in to start five games for the injured Jay Cutler last season and threw 13 TD passes and one interception.
"He still moves around and makes plays," Trestman said. "He's made some really good throws, some deep ball throws. He's escaped the pocket and moved his feet, moved his feet well, run a few times when he's had the opportunity to run, so I see him pretty much in the same mode."