The Bears defense reverted to its early-season form last weekend in Arizona, returning two of three takeaways for touchdowns in a crucial 28-13 victory over the Cardinals.
An encore performance in Sunday's game against the Lions certainly would provide a boost for the Bears, who need a win coupled with a Vikings loss to the Packers to make the playoffs.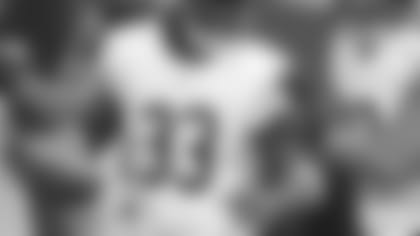 Bears cornerback Charles Tillman celebrates after returning an interception for a TD in Arizona.
"We made plays last week," said linebacker Lance Briggs. "We got in the end zone defensively. We've been trying to get the ball out; sometimes it just doesn't come out. Last week we were trying to get the ball out and it came out. We're going to continue to try to do that."

After returning seven interceptions for touchdowns during a six-game winning streak earlier this season, the Bears defense hadn't scored a TD while losing five of six games before last Sunday. This year the Bears are 6-0 when producing a defensive touchdown and 3-6 when they don't.

The Bears enter Week 17 leading the NFL with 40 takeaways, their most since they recorded 44 in 2006 en route to a Super Bowl appearance. The Lions lead the NFL in passing yards, but quarterback Matthew Stafford has thrown 16 interceptions, tied for the third most in the league.

The Bears defense hopes to pick up Sunday where it left off in Arizona, when it scored two TDs, not did allow a touchdown, recorded four sacks and limited the Cardinals to 29 yards rushing.

"Defensively, we're starting to hit a bit of a groove again," Briggs said. "So we want to take that right into Detroit and right into the playoffs."

Roster move: The Bears on Friday waived defensive Cheta Ozougwu and promoted running back Harvey Unga from the practice squad.

On the mend: Middle linebacker Brian Urlacher returned to practice Friday on a limited basis for the first time since he suffered a hamstring injury Dec. 2 in an overtime loss to the Seahawks. But he was listed as doubtful for Sunday's game.

"I was encouraged that he was finally able to get on the practice field," said coach Lovie Smith. "It's not like we had a full padded practice today, though, but he was able to move around, which we thought he would be able to do.

"The normal progress we hoped he would make he has made. Brian doesn't have to necessarily practice a full practice before we would play him, but we're not to that point."

After missing the last three games, Urlacher can't wait to return to action.

"He never wants to be off the field. He always wants to be out there," Briggs said. "When it gets to situations like that, it's not our call. I know where his heart is. I know where he wants to be."

Ready to roll: Running back Matt Forte, who exited last weekend's game with an ankle injury, practiced without restrictions Friday and was listed as probable.

To get ready for the game, Forte said his treatment included acupuncture, working with a chiropractor and sleeping in a hyperbaric chamber.

Asked about the acupuncture, Forte said: "I've heard a lot about it from a lot of guys, and I tried it one time with my knee and it helped out when I had my knee scoped four years ago, so I figured it wouldn't hurt."

Safety Chris Conte (hamstring) and linebacker Blake Costanzo (calf) have been ruled out of Sunday's game. Running back Armando Allen (knee) and defensive tackle Henry Melton (chest) are questionable.

For the Lions, defensive tackle Sammie Hill (toe) is out; tight end Brandon Pettigrew (ankle) is doubtful; and safety Louis Delmas (knee) and cornerback Chris Houston (hamstring) are questionable.

All talk: Smith doesn't think the comments made this week by Melton about the Lions being a dirty team will have any impact on Sunday's game.

"It's a division opponent," Smith said. "We have a history with them. I don't think that matters at all; what they say, what we say. The game will be won on the football field, and we all realize that. It's not an issue at all."