Since Danny Trevathan signed with the Bears on the first day of free agency in March, the inside linebacker has made an interesting impression on new teammate Kyle Long.
"Danny's kind of a quiet guy, but he's one of those guys that kind of has an aura about him," said Long, a three-time Pro Bowl offensive lineman. "He walks in and he's got his chains on and he looks sharp every day, like he just left a video shoot or something.
"You see him on the field and you block him and he smells good. He wears cologne. But then you get caught up in the aroma and you get hit under the chin. And if you do get your hands on him to block him, he will fight like a crazy SOB to get off you, and he'll get in your face and he'll go after the ball."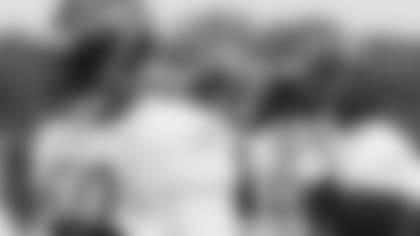 Linebackers Jerrell Freeman and Danny Trevathan on the first day of practice.


While Trevathan certainly smells like a winner after leading the Super Bowl-champion Denver Broncos with 109 tackles last season, he wasn't the only defender the Bears added to their front seven during a busy offseason.
The team also signed inside linebacker Jerrell Freeman and defensive end Akiem Hicks in free agency and selected outside linebacker Leonard Floyd and defensive end Jonathan Bullard in the first and third rounds of the draft, respectively.
The moves were all part of general manager Ryan Pace's plan to bolster a defense that generated just 15 takeaways all of last season.
"We all know that pressure on the quarterback can equate to turnovers and help the secondary, so I'm fired up about that going forward," Pace said.
Bears defensive backs are also fired up about working behind an improved front seven.
"I don't care who you have back there," said veteran cornerback Tracy Porter. "You could have Champ [Bailey] on one side and Deion [Sanders] on the other side. If your front seven isn't putting the necessary pressure on a quarterback, he can just sit back there all day."
At the start of training camp, Bears quarterback Jay Cutler described the difference between the front seven last year and this year as "night and day." It's a change that first became evident during offseason practices at Halas Hall.
"We did a great job in OTAs of getting our hands on the ball as a secondary," Porter said. "That's not us playing any differently. That's us having that front seven putting pressure on the quarterback. We've just continue to do our job and once the ball is in the air we put an emphasis on attacking the ball instead of just trying to be there and not let him catch the ball. We want to attack the ball."
With Trevathan and Freeman lining up next to each other at inside linebacker, the run defense also should be better. The two were tackling machines the past four seasons with their previous teams, Trevathan in Denver and Freeman with the Indianapolis Colts.
"They've really connected and become close friends on-and-off the field, which I think is good," Pace said. "They're both natural leaders and naturally vocal guys. It's not forced. It's very easy for them to be that way. We kind of knew that a little more about Danny because of the relationship John had with him [from working together in Denver]. But I would say Jerrell has maybe exceeded expectations as far as the natural leader that he is. That is in addition to the physical talent they bring as well. Those are two good additions to the defense, not just from a physical standpoint, but also from the leadership traits they bring."
With the newcomers joining a front seven that already includes Pernell McPhee, Willie Young, Lamarr Houston and Eddie Goldman, the Bears defense could make major strides this season.
"It's not a knock on any players we had last year, but just watching the film, the sky's the limit for our defense," Porter said. "We just have to gel everyone together this training camp. If everybody's on the same page, we won't be surprised at what happens, but a lot of people on the outside will be."