It had been 10 long days since their embarrassing loss in Green Bay, and the Bears were more than just a little eager to vanquish the bad taste in their mouths Sunday at Soldier Field.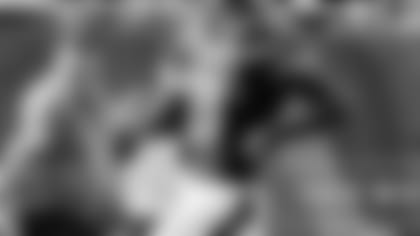 Major Wright's pick-six highlighted the Bears' dominant display on defense.
A dominant defense helped accomplish that goal by generating six sacks, two takeaways and a clinching touchdown on an interception return in a 23-6 win over the St. Louis Rams.
"This was a bounce back game for us," coach Lovie Smith said after the Bears improved to 2-1. "We needed to come out strong. The defense really came out ready to play. Our defensive line has played outstanding ball all year and they set the tone today."
The Bears defense didn't allow a touchdown, limiting the Rams to 160 total yards and 12 first downs, while veteran end Israel Idonije tied a career high with 2½ sacks of Sam Bradford.
"Israel Idonije was outstanding," Smith said. "That pressure did a lot. We were playing a good offense. Sam Bradford is a great quarterback. They had moved the ball against a lot of people. The defense really did some good things today. It felt like we had control of the game."
Cornerback Tim Jennings continued to excel, recording his fourth interception of the season and breaking up a Bradford pass that safety Major Wright picked off and returned 45 yards for a TD.
In addition, Rams running back Steven Jackson was held to 29 yards on 11 carries as St. Louis never advanced beyond Chicago's 28-yard line.
The effort helped the Bears overcome another lackluster outing by the offense, which mustered just one TD for the second straight game after compiling five in the season opener.
The Bears' passing attack appeared out of sync at times as Jay Cutler completed 17 of 31 attempts for 183 yards with no TDs, one interception and a 58.9 passer rating.
"It was hit and miss," Cutler said of his performance. "At the end of the day, we won the game. Offensively, there were some things we could make better, but the idea is to win. It's not a one-on-one tennis match."
With Matt Forte sidelined due to a sprained ankle, the Bears rushed for 103 yards. But Cutler accounted for 21 yards with a scramble, while running backs Michael Bush (18 carries for 55 yards and 1 TD) and Kahlil Bell (10-20) combined to average only 2.7 yards per attempt.
The win lifted the Bears into a first-place tie in the NFC North with the surprising Vikings (2-1), who stunned the 49ers 24-13 Sunday in Minnesota. The Packers (1-1) play Monday night in Seattle, while the Lions (1-2) lost to the Titans 44-41 in overtime Sunday in Tennessee.
"It was a good team win for us to get back on track," Smith said.
The Bears outgained the Rams 77-3 in the first quarter but led only 3-0 on Robbie Gould's 54-yard field goal, which came on the game's opening possession. Bush later bolted up the middle for a 3-yard TD to make it 10-0 with 1:56 remaining in the first half, capping a 12-play, 81-yard drive.
Both of the Bears' first two scoring drives were sustained by 15-yard penalties against the Rams, on linebacker Mario Haggan for roughing punter Adam Podlesh and on safety Darian Stewart for a helmet-to-helmet hit on Cutler on a third-down incompletion.
The Rams cut the deficit to 10-3 with :22 left in the half on Greg Zuerlein's 56-yard field goal, the longest in Soldier Field history. St. Louis then closed the gap to 10-6 on Zuerlein's 46-yarder midway through the third quarter.
The Bears offense opened the second half with two three-and-outs, netting minus-six yards on six plays. The unit finally kicked into gear as Cutler engineered a 13-play, 71-yard drive that resulted in Gould's 22-yard field goal, widening the margin to 13-6 early in the fourth quarter.
"We made some plays [in the pass game] when we had to, especially in the second half there when we needed to get a drive going," Smith said. "I thought we did some good things with it."
The Bears defense then delivered the most important play of the game as Jennings broke up a Bradford pass intended for receiver Danny Amendola. The ball deflected to Wright, who returned the interception 45 yards for a touchdown, extending the lead to 20-6.
"I was in good position," Jennings said. "I knew that I had a good bead on it. He wasn't going to catch it. He kind of got in front of me at the last minute, but I was able to hit his hands and he kind of tipped it up and Major got to the football and made a play. That was a big play."
Gould provided insurance with a 37-yard field goal with 2:18 left, and Jennings put an exclamation point on the much-needed victory by intercepting Bradford with 1:53 to play.