The Bears on Friday reduced their roster to 58 by releasing 17 players including tackle J'Marcus Webb, running back Armando Allen and quarterbacks Jordan Palmer and Trent Edwards.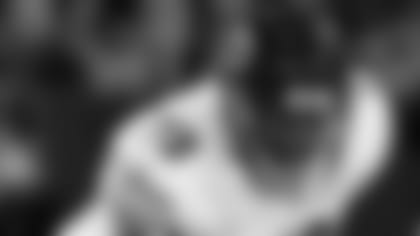 J'Marcus Webb was released by the Bears after starting 44 games in three seasons.
The Bears must trim five more players to reach the NFL's mandatory 53-man roster deadline by 5 p.m. Saturday.
Other players released Friday were receivers Brittan Golden and Josh Lenz, center/guard Edwin Williams, guard Derek Dennis, tight end Fendi Onobun, running back Harvey Unga, defensive ends Aston Whiteside and Josh Williams, defensive tackle Christian Tupou, linebacker Jerry Franklin, safety Tom Nelson cornerback Demontre Hurst and long-snapper Brandon Hartson.
Webb appeared in 46 games with 44 starts in three seasons with the Bears after arriving in 2010 as a seventh-round draft pick from West Texas A&M.
The 6-7, 333-pounder started the final 12 games of his rookie year at right tackle, helping the Bears win the NFC North title and advance to the NFC Championship Game. Webb then moved to left tackle, where he started all 16 games each of the past two seasons.
After the Bears signed left tackle Jermon Bushrod in free agency in March, Webb was shifted back to right tackle. He worked with the starting unit throughout the offseason before being replaced by rookie fifth-round pick Jordan Mills early in training camp.
Allen lost a battle with undrafted rookie Michael Ford for the third running back position behind Matt Forte and Michael Bush. Allen appeared in 15 games for the Bears last season, rushing for 124 yards and one touchdown on 27 carries and recording seven special-teams tackles.
With the Bears keeping only two quarterbacks in Jay Cutler and Josh McCown, Palmer failed to earn a roster spot after an impressive performance in Thursday night's preseason finale. Playing the first half in an 18-16 loss to the Browns, Palmer completed 11 of 17 passes for 111 yards with one touchdown and a 102.8 passer rating.