The Bears reached the NFL's 53-man roster limit Saturday by releasing 15 players, including nickel back Kelvin Hayden, offensive lineman Eben Britton and receiver Chris Williams.
In addition to Williams, others who were waived included receivers Josh Bellamy and Dale Moss; center Taylor Boggs; defensive tackles Brandon Dunn, Lee Pegues and Tracy Robertson; linebackers Jerry Franklin and DeDe Lattimore; guard Ryan Groy; and cornerbacks Al Louis-Jean and C.J. Wilson.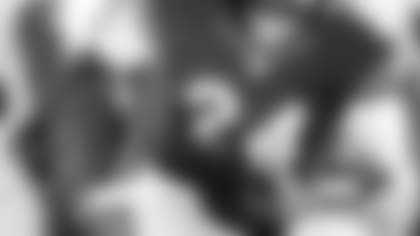 Kelvin Hayden
The Bears also terminated the contracts of Hayden, Britton and defensive end Austen Lane, and waived safety M.D. Jennings with an injury settlement.
Hayden appeared in all 16 games with two starts in 2012, recording 40 tackles and one interception, before missing all of last season with a torn hamstring he sustained during training camp. The Chicago native joined the Bears after spending his first seven NFL seasons with the Colts (2005-10) and Falcons (2011).
Britton played in 13 games with four starts as a sixth eligible lineman last year in his first season with the Bears. He missed most of training camp and the first three preseason games with a knee injury.
A former CFL standout, Williams was competing for jobs as a reserve receiver and return specialist, but he missed two weeks with a hamstring injury he sustained on a 73-yard touchdown reception in the preseason opener against the Eagles. Williams averaged 27.0 yards on three kickoff returns in the preseason.
The Bears opted to keep rookie third-string quarterback David Fales on their 53-man roster. The sixth-round draft pick from San Jose State completed 18 of 31 passes for 214 yards with one touchdown, two interceptions and a 63.1 passer rating in two preseason games.
The Bears kept four running backs, including backups Ka'Deem Carey, Shaun Draughn and Senorise Perry. Six receivers made the 53-man roster, including Santonio Holmes, Josh Morgan, Micheal Spurlock and Marquess Wilson, who will miss part of the regular season with a broken collarbone.
The Bears kept one fullback (Tony Fiammetta) and three tight ends (Martellus Bennett, Matthew Mulligan and Dante Rosario). Their three reserve offensive linemen are center Brian de la Puente, tackle Charles Leno Jr. Jr. and tackle/guard Michael Ola.
Ten defensive linemen made the final roster with David Bass, Trevor Scott and Cornelius Washington beating out Lane at end behind Jared Allen, Lamarr Houston and Willie Young.
The Bears kept six linebackers with undrafted rookie Christian Jones edging Franklin and Lattimore to join Lance Briggs, Jonathan Bostic, Khaseem Greene, Shea McClellin and D.J. Williams.
At cornerback, Demontre Hurst beat out Hayden, Louis-Jean and Wilson behind Kyle Fuller, Tim Jennings, Kyle Fuller and Sherrick McManis. The Bears kept only four safeties in Chris Conte, Danny McCray, Ryan Mundy and Brock Vereen.
The Bears kept 11 rookies on their 53-man roster. All eight draft picks made it (Fuller, defensive tackles Ego Ferguson and Will Sutton, Carey, Vereen, Fales, punter Pat O'Donnell and Leno Jr.) along with two undrafted free agents (Perry and Jones) and a waived free agent (Ola).
The Bears can establish a 10-man practice squad on Sunday and also can claim players who've been waived by other NFL teams. In past seasons, the Bears have typically stocked their practice squad primarily with players they released during final cuts.
Here's a breakdown of the 53-man roster as it stands now (in alphabetical order):
Quarterbacks (3): Jimmy Clausen, Jay Cutler, David Fales
Running backs (4): Ka'Deem Carey, Shaun Draughn, Kyle Long, Senorise Perry
Fullbacks (1): Tony Fiammetta
Wide receivers (6): Santonio Holmes, Alshon Jeffery, Brandon Marshall, Josh Morgan, Micheal Spurlock, Marquess Wilson
Tight ends (3): Martellus Bennett, Matthew Mulligan, Dante Rosario
Offensive linemen (8): Jermon Bushrod, Brian de la Puente, Roberto Garza, Charles Leno, Jr., Kyle Long, Jordan Mills, Michael Ola, Matt Slauson
Defensive linemen (10): Jared Allen, David Bass, Ego Ferguson, Lamarr Houston, Stephen Paea, Jeremiah Ratliff, Trevor Scott, Will Sutton, Cornelius Washington, Willie Young
Linebackers (6): Jonathan Bostic, Lance Briggs, Khaseem Greene, Christian Jones, Shea McClellin, D.J. Williams
Cornerbacks (5): Kyle Fuller, Demontre Hurst, Tim Jennings, Sherrick McManis, Charles Tillman
Safeties (4): Chris Conte, Danny McCray, Ryan Mundy, Brock Vereen
Specialists (3): Robbie Gould, Pat O'Donnell, Brandon Hartson