The Bears reached the NFL's 53-man roster limit Saturday by waiving safety Brandon Hardin, linebacker J.T. Thomas, tackle Cory Brandon, defensive tackle Corvey Irvin and receiver Terrence Toliver.
Hardin was waived/injured and could be placed on injured reserve if he clears waivers, while Brandon and Irvin were waived with injury settlements.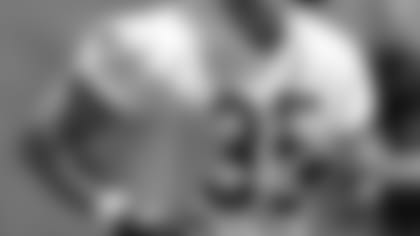 Brandon Hardin was chosen by the Bears in the third round of the 2012 draft.
The Bears kept six cornerbacks but only four safeties, with Hardin being beaten out by Craig Steltz and Anthony Walters for reserve spots behind starters Chris Conte and Major Wright. A 2012 third-round pick, Hardin sat out his senior year at Oregon State with a shoulder injury and missed his entire rookie season with the Bears after hurting his neck in a preseason game.
On his Twitter account, Hardin wrote: "It's not a journey without a few speed bumps and detours. Thanks for the support Bears fans. Trying to stay positive!"
Thomas was selected by the Bears in the sixth round of the 2011 draft. After spending his entire rookie season on injured reserve, he appeared in all 16 games last year, primarily on special teams. The 6-1, 236-pounder made two impact plays in the preseason, blocking a punt against the Chargers and sacking Browns quarterback Brian Hoyer on a well-timed blitz.
Brandon joined the Bears in 2012, spending the first 15 weeks of the season on the practice squad. He was promoted to the active roster Dec. 17, but did not play in the final two games. The 6-7, 324-pounder sustained a leg injury late in Thursday night's preseason finale against the Browns.
Irvin signed with the Bears in May. He has appeared in 18 games in three NFL seasons with the Panthers (2010), Jaguars (2011) and Buccaneers (2012), recording 11 tackles.
Toliver has spent time with the Texans (2011) and Lions (2012) without appearing in a regular-season game. He showed flashes in the preseason, catching seven passes for 63 yards.
The Bears kept nine rookies on their 53-man roster. All six draft picks made it (guard Kyle Long, linebackers Jon Bostic and Khaseem Greene, tackle Jordan Mills, defensive end Cornelius Washington and receiver Marquess Wilson) along with three undrafted free agents (running back Michael Ford, defensive tackle Zach Minter and cornerback C.J. Wilson).
The Bears kept one fullback (Tony Fiammetta) and three tight ends (Martellus Bennett, Steve Maneri and Kyle Adams). Their four reserve offensive linemen are guard/center Taylor Boggs, guard/tackle Eben Britton, tackle/guard James Brown and tackle Jonathan Scott.
The Bears can establish an eight-man practice squad on Sunday and also can claim players who've been waived by other NFL teams. In past seasons, the Bears have typically stocked their practice squad primarily with players they released during final cuts.
Here's a breakdown of the 53-man roster as it stands now (in alphabetical order):
Quarterbacks (2): Jay Cutler, Josh McCown
Running backs (3): Michael Bush, Michael Ford, Matt Forte
Fullbacks (1): Tony Fiammetta
Wide receivers (6): Joe Anderson, Earl Bennett, Alshon Jeffery, Brandon Marshall, Eric Weems, Marquess Wilson
Tight ends (3): Kyle Adams, Martellus Bennett, Steve Maneri
Offensive linemen (9): Taylor Boggs, Eben Britton, James Brown, Jermon Bushrod, Roberto Garza, Kyle Long, Jordan Mills, Jonathan Scott, Matt Slauson
Defensive linemen (9): Nate Collins, Shea McClellin, Henry Melton, Zach Minter, Cheta Ozougwu, Stephen Paea, Julius Peppers, Cornelius Washington, Corey Wootton
Linebackers (6): James Anderson, Jon Bostic, Lance Briggs, Blake Costanzo, Khaseem Greene, D.J. Williams.
Cornerbacks (6): Zackary Bowman, Isaiah Frey, Tim Jennings, Sherrick McManis, Charles Tillman, C.J. Wilson
Safeties (4): Chris Conte, Craig Steltz, Anthony Walters, Major Wright
Specialists (4): Robbie Gould, Devin Hester, Patrick Mannelly, Adam Podlesh