The Bears on Tuesday reached the NFL's mandatory 75-man roster limit by waiving cornerback Isaiah Frey and offensive lineman James Brown.
Frey was selected by the Bears in the sixth round of the 2012 draft out of Nevada. After spending his entire rookie season on the practice squad, he appeared in all 16 games with six starts last year as the Bears' nickel back, recording 62 tackles and two pass breakups. Frey assumed the job after veteran Kelvin Hayden sustained a season-ending injury in training camp.
Frey sustained a hamstring injury Aug. 4 in practice and missed the Bears' first three preseason games. He returned to action Monday, but sat out Tuesday's workout after experiencing soreness.
This season the Bears have said that they intend to move Tim Jennings from cornerback to nickel back in passing situations with first-round pick Kyle Fuller filling in for Jennings at cornerback.
Brown signed with the Bears as an undrafted free agent in 2012 out of Troy. He appeared in five games with three starts at left guard as a rookie, but he was inactive for all 16 games last year.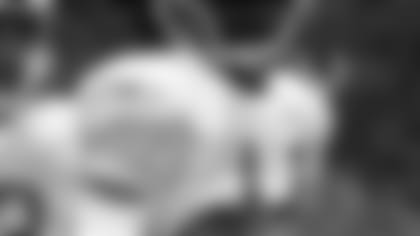 Santonio Holmes
Quick study:
Quarterback Jay Cutler has been impressed with the progress that veteran receiver Santonio Holmes has made in his short time with the Bears.
Holmes played in last Friday night's preseason game in Seattle—catching one pass for seven yards—just six days after signing with the team and four days after his first practice.
"He was in a tough spot, having to come in there and playing a game as quickly as he did," Cutler said. "He's done a great job of picking up the offense. [Receivers coach] Mike Groh's done a good job of working with him and trying to catch him up to speed.
"It's hard for him to get all the way up to speed with Alshon [Jeffery] and 'B' (Brandon Marshall) and some of these guys because we just have so much volume. But he's played really high quality football throughout his career, so it should be an easy transition for him."
Physical receiver: It won't be easy for Holmes to unseat Josh Morgan as the Bears' No. 3 receiver. In that role against the Seahawks, Morgan caught three passes for a team-high 48 yards.
"Josh has done a nice job of being a physical receiver," said offensive coordinator Aaron Kromer. "He gets in and out of cuts well, and he's making contested catches in practice. It's going to be a case of showing consistency to do that day-in and day-out. That's what we need to see next."
Morgan's 23-yard reception in Seattle was the Bears' longest play from scrimmage in the game.
"He's come on the last couple weeks," Cutler said. "He had a big catch in the game. It just takes time for some of these guys of going through practice and getting into different situations."
Sharing secrets: After being released by the Bears Sunday, quarterback Jordan Palmer signed with the Buffalo Bills Tuesday. With the two teams slated to face each other in the regular-season opener Sept. 7 at Soldier Field, is Cutler worried about Palmer sharing secrets?
"It's not an ideal situation," Cutler said. "It's not exactly what you want. He can give them things. I'm sure he'll be meeting with [coach Jim] Schwartz pretty much immediately."
And what type of information could Palmer divulge?
"Snap counts and some of the stuff we do with some of our checks, what plays we like," Cutler said. "But they still have to defend it, so we won't change much if anything, maybe a few tweaks here and there. We'll just have to go play football and see how it goes."