The Bears on Sunday cut 12 players including cornerback Tim Jennings, placed receiver Kevin White on the physically unable to perform list and put safety Ryan Mundy on injured reserve.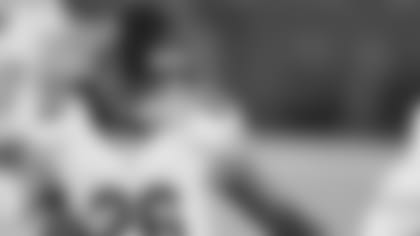 Tim Jennings was voted to the Pro Bowl after recording nine interceptions in 2012 and four in 2013. But he didn't pick off any passes in 2014.
In trimming their roster to 76, the Bears terminated the contract of running back Daniel Thomas, waived/injured receiver John Chiles, and waived nine other players: safety Malcolm Bronson, tight end Kevin Greene, tackle Cameron Jefferson, receiver Jeremy Kelley, cornerback Al-Louis Jean, long-snapper Rick Lovato, receiver Levi Norwood, defensive end Olsen Pierre and tight end Chris Pantale.
Jennings spent the past five seasons with the Bears, starting 74 of 78 games played and recording 353 tackles, 16 interceptions, 53 pass breakups, six forced fumbles and four fumble recoveries. He was voted to the Pro Bowl in 2012 when he led the NFL with nine interceptions and again in 2013. Jennings joined the Bears in 2010 after spending his first four seasons with the Colts.
White remains out indefinitely after undergoing surgery to stabilize a stress fracture in his shin. Being on the PUP list means that he must sit out the first six weeks of the season. But the Bears have acknowledged that the first-round draft pick may miss his entire rookie year.
Mundy is definitely out for the season with a hip injury. He started all 16 games last year in his first season with the Bears, ranking second on the defense with 103 tackles and tying for the team lead with four interceptions. Mundy joined the Bears after spending his first six NFL seasons with the Steelers (2008-12) and Giants (2013).
The Bears must cut one more player by 3 p.m. Tuesday to reach the NFL's mandatory 75-man roster limit. NFL teams must then reduce their rosters to 53 by 3 p.m. Saturday.