A spate of injuries on their offensive line has created some uncertainty for the Bears as they prepare for Sunday's road game against the Chiefs.
Center Will Montgomery is out for the season after breaking his fibula in last weekend's win over the Raiders, but he isn't the only lineman with a medical issue.
Left tackle Jermon Bushrod has been sidelined since suffering a concussion in a Week 3 loss to the Seahawks. Right tackle Kyle Long was limited in practice for the second straight day with back and ankle injuries. And Patrick Omameh, who played most of the Raiders game at left guard, sat out practice for the second day in a row with an ankle injury.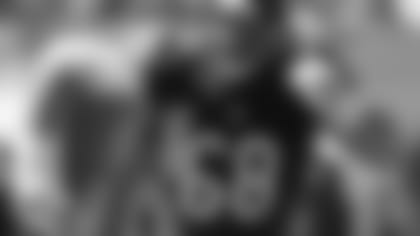 Matt Slauson's natural position is at left guard.


"It does get challenging," said quarterback Jay Cutler. "We have some guys banged up. Getting through practice, just getting everyone on the same page, communication's got to be good. From the [offensive coordinator] on down, everyone's done a great job; coaching staff, players locking in during meetings. Mistakes are going to happen out here, but we'll just try to eliminate them."
The biggest issue to resolve is whether the Bears will stick with Matt Slauson at center—where he moved after Montgomery was injured—or return him to his natural left guard position and start rookie fourth-round pick Hroniss Grasu at center.
"We're still kind of going through what we need to go through as far as practice and what's the best option for us," said offensive coordinator Adam Gase.
"That's the good thing about having coach [John] Fox and [general manager] Ryan Pace to bounce things off and [line] coach [Dave] Magazu. We're still kind of in the process of figuring out what's the best option for us and once we hit Sunday we'll have a really good feel."
Grasu has been inactive the first four weeks of the season. The 6-3, 297-pounder started all 52 games he played the past four years at Oregon, including 13 in 2012 when he teamed with Long. Grasu earned All-Pac-12 honors each of the last three seasons and was one of six finalists for the Rimington Trophy as the nation's top center as a junior and senior.
"Smart kid," Cutler said. "Works his tail off. Going to do everything possible to help the team. Wants to do it. Wants to be up there. It's just a matter of experience for him, getting out there and getting the reps and going through it."
According to Gase, Grasu's greatest strength is his athleticism.
"He does have that rare ability to get to the second level and cut defenders off, and he's a lot stronger than what you'd anticipate," Gase said. "I know he's not like an overly-sized guy, but he does have good strength for that position."
Grasu, 24, would be the youngest center Cutler has played with in nine NFL seasons. He has lined up behind veterans Tom Nalen and Casey Wiegmann with the Broncos and Olin Kreutz, Roberto Garza and Montgomery with the Bears.
"I've always had older centers who make your life a little bit easier," Cutler said. "Hroniss would be the youngest guy, but it's fine. He's going to go out there and he's going to play his butt off. If we go with 'Slau,' we already have one game under our belt."
Slauson earned a game ball last Sunday after sliding over to play center in a game for the first time since 2011 when he was with the Jets.
"It was unbelievable," Gase said. "For him to transition into that and then for us not to miss a beat—I know we had a couple things happen where we could've probably cleaned up—but for him to do that, get the calls, get everyone squared away, it was phenomenal."
A botched exchange between Cutler and Slauson led to a turnover against the Raiders, but the Bears adjusted by employing more shotgun snaps and had no more problems.
"He's a smart guy," Cutler said of Slauson. "He knows the offense like the back of his hand, been well-coached throughout his entire career, had some really good coaches around him and he's a talented player. The hardest part for him was just getting rid of the ball. After that it was easy."
Though both players will require a learning curve, Cutler isn't concerned.
"I'm not that worried about [Grasu] or Slau, whoever we end up going with," Cutler said. "With Hroniss you just know that there are going to be some mistakes out there, with Slau though too. There are going to be some things that they just haven't seen. They're going to experience it. But I know those guys are going to give me everything they've got and that's all I can ask for."