ARLINGTON, Texas - The Bears defense had played exceptionally well in the first three games this season, leading the NFL with 14 sacks and allowing just three touchdowns.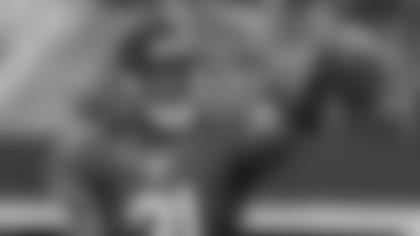 Safety Major Wright recorded two of the Bears' five interceptions Monday night.
But the unit delivered its most impressive performance yet Monday night in Dallas, intercepting five passes and returning two of them for touchdowns in a 34-18 victory over the Cowboys.

"Defensively, we talk about taking the ball away always," said coach Lovie Smith. "Normally when you score a couple of defensive touchdowns, you have a chance to win, and when you get five takeaways, you're headed in the right direction. It was just outstanding play by our defense."

Cornerback Charles Tillman started the onslaught late in the first half when he intercepted a Tony Romo pass and returned it 25 yards for a touchdown to give the Bears a 10-0 lead.

With blitzing safety Chris Conte about to hit Romo, the Cowboys quarterback threw a pass in the left flat directly to Tillman, who juggled the ball before securing it and racing down the sideline untouched. There was a mix-up between Romo and receiver Dez Bryant, who ran deep on the play.

With the score, Tillman tied Mike Brown's all-time Bears record with seven career defensive TDs.

Linebacker Lance Briggs generated the fifth defensive touchdown of his career midway through the third quarter when he snared an errant Romo throw over the middle and raced 74 yards for a score to give the Bears a commanding 24-7 lead.

Major Wright had two interceptions and D.J. Moore had one for the Bears, who picked off five passes for the first time since Sept. 18, 2005 in a 38-6 win over the Detroit Lions.

"It seemed like everyone had a say in it," Smith said. "Those were all big plays. In order to get those, you have to have pressure. Romo is hard to get down. He kept a lot of plays alive for them."

"We played well," Briggs said. "A lot of turnovers, that's what we do all the time. Our coaches preach turnovers. We got them. We made some big plays on offense, defense and special teams."

In addition to his five interceptions, Romo completed 31 of 43 passes for 307 yards with one touchdown and a 60.1 passer rating before being benched late in favor of Kyle Orton.

Texas native Henry Melton recorded the Bears' only sack.

"It was fun," Melton said. "I got about 30-something tickets spread out everywhere. It was a great showing for the whole team and I'm glad we're leaving here with a win."