Bears defensive coordinator Mel Tucker knows that it will take a group effort to slow down Packers star quarterback Aaron Rodgers in Sunday's NFC North showdown at Soldier Field.
"You have to do a lot of things right and everyone has to be on top of their game if you want to have any chance of trying to contain Aaron Rodgers," Tucker said Wednesday.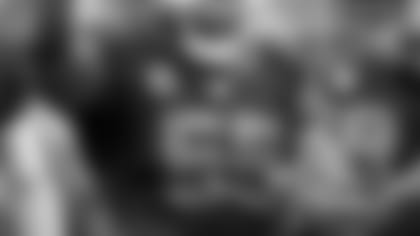 Lance Briggs and the Bears will face a tough task Sunday against Aaron Rodgers.
"He's a tremendous competitor. He can make every throw. He's got outstanding mobility and he's got good players around him. It's going to be a tall task for us."
Rodgers, whose 104.6 career passer rating is tops in NFL history, is 10-2 in regular-season and playoff games he's started and finished against the Bears. He has won five of his last six starts versus Chicago, throwing 14 touchdown passes and four interceptions.
"He's Aaron Rodgers," said cornerback Tim Jennings. "He's going to make all the throws, make those plays. You've just got to minimize some of the stuff he likes to do, get to the quarterback, make him feel rattled and come up with some takeaways."
In Green Bay's first three games this season, Rodgers has completed 62.7 percent of his passes for 697 yards with five touchdowns, one interception and a 95.1 passer rating. The former NFL MVP is much more of a pure passer than the quarterbacks the Bears faced in their first three contests—the Bills' EJ Manuel, the 49ers' Colin Kaepernick and the Jets' Geno Smith.
"He's certainly unique," said coach Marc Trestman. "He's different than the guys that we've played from the standpoint that he's got all the throws sideline-to-sideline.
"He just has tremendous accuracy, tremendous quickness releasing the football. Plus he's got the ability to extend plays. He's extremely and unusually athletic. He has the mobility to go right or left and throw with great accuracy."
Rodgers excels at extending plays with his feet, buying time to allow his receivers to get open. That's exactly what happened in last year's season finale when he beat a Bears blitz to throw a game-winning 48-yard touchdown pass on fourth-and-eight in the final minute.
"He's got good feet and he can create more time with his feet," said linebacker Lance Briggs. "You're not going to find a quarterback in the league that's going to pinpoint the ball better than Aaron Rodgers. He can make any throw in the NFL. So that makes it tough.
"He's one of those guys that scrambles. Usually when a guy scrambles to his right or his left, their completion percentage goes down. His stays right around the same."
The defense's rules of engagement against mobile quarterbacks always remain the same, but the level of difficulty increases significantly this week versus Rodgers.
"It's still about trying to keep them in the pocket, level the rush and make sure he can't get outside to extend plays," Trestman said. "It really doesn't change week-to-week, but certainly we're dealing with tremendous experience, and tremendous and unique quarterback athleticism with his ability to quickly release the ball, see the field and use the entire field to his liking.
"And then he's got very good receivers who are great catching the ball and making contested catches with people hanging on them."
Green Bay's top receiver is Jordy Nelson, who has caught 23 passes for 351 yards and one TD. The 6-3, 217-pounder ranks second in the NFL among receivers with 120 yards after contact.
"We're always looking to get better [with] yards after contact," Tucker said. "This team in particular does an outstanding job with yards after the catch. They take pride in it. You can see it."
The Packers are 1-2 and only mustered seven points last Sunday in a loss to the Detroit Lions. But the Bears won't take anything for granted against the always-dangerous Rodgers.
"He just does everything well," Tucker said. "He plays at a high level in every aspect. He's what you call an elite quarterback."