A struggling Bears defense is determined to improve, but the injury-depleted unit will face arguably its most daunting challenge of the season Monday night in Green Bay.
The Packers rank third in the NFL in points per game (30.3) and are led by quarterback Aaron Rodgers, whose 105.2 career passer rating is the best in league history. This season he has thrown for 2,191 yards with 15 touchdowns, four interceptions and a 108.0 rating.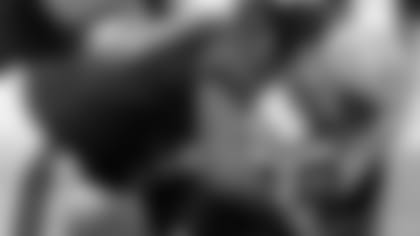 Bears defensive end Corey Wootton sacks Packers quarterback Aaron Rodgers last season.
"He's an excellent player," said defensive coordinator Mel Tucker. "Everyone knows about his athletic ability and arm talent, but he's really smart. He's got command of the offense. He plays with a lot of confidence. He knows exactly where to go with the ball, and if you're not where you're supposed to be, he's going to make you pay."
With a win Monday night, the Bears (4-3) would tie the Packers (5-2) and Lions (5-3) atop the NFC North. To do that, they no doubt must rediscover their pass rush. The Bears rank last in the NFL with nine sacks-with only four of those being generated by the defensive line. Linebackers Lance Briggs and D.J. Williams, who are both out with injuries, share the team lead with two apiece.  
"We need to be able to get pressure with four and then some at times," Tucker said. "It's important. They do a great job offensively with their scheme, their design, their timing. They don't hold onto the ball too long. They do a great job with that, so it will be a huge challenge for us."
The Bears are on pace to allow the most points in a season in franchise history. They permitted 21 or more points in each of their first seven games for the first time ever and at least 40 points in back-to-back road contests for the first time since 1969.
The Bears have allowed seven touchdown drives of at least 80 yards in their last two games. The Packers, meanwhile, did not punt in last Sunday night's 44-31 win over the Vikings, generating four touchdowns and three field goals on seven series before kneeling on the ball to end the game.
"What we're going to do is focus on doing our job," Tucker said. "We feel like if our guys play with great technique and fundamentals, are smart, they play fast, they play physical and everyone else does what they're supposed to do, then we'll be in a position to make plays."
For the first time in recent memory, the Packers also boast a potent running game to go along with its passing attack. With Eddie Lacy (112 carries for 446 yards and three touchdowns) and James Starks (41-244-2), Green Bay ranks third in the NFL in rushing.
"They're doing a great job running the football," Tucker said. "It's really about everyone doing their job in run fits, playing with great power and great technique up front, and rallying to the ball and not leaving it up to one guy. Everybody's got to get to the ball; 11 to the ball."
The Packers have won four straight games after a 1-2 start to grab sole possession of first place. In the process, Green Bay has overcome the loss of receivers Randall Cobb and James Jones and tight end Jermichael Finley to injuries.
"Their coaches have done a great job of taking new guys and moving them into positions, so I think it's not just Aaron," said coach Marc Trestman. "We all know he's the triggerman, but I think there are a lot of parts to this. I think it starts with them finding the right players and then developing those young players and getting in position to have some success."
The Packers have been nearly unbeatable at home, winning 10 straight and 23 of their last 24 games. The Bears have dropped five in a row at Lambeau Field, last winning in 2007.
Green Bay has been particularly successful on third downs, ranking third in the NFL with a 46.4 success rate. The Bears defense is 28th in the league at 44.3 percent.
"When [Rodgers] has time to throw and you can't get to him, he's going to find an answer or he's going to run and make a play, so we've got to find a way," Trestman said.
"In the past our team has found a way to push the pocket and make a move and we're going to have to do what we can to keep him in the pocket, No. 1, and then hurry him enough where he's got to make a quicker decision with guys that he hasn't necessarily had as much time to work with.
"Hopefully we can get it done that way and just minimize the big plays because he's going to make his plays like any difference-making player would on the field. They always do. We've just got to try to minimize that as much as we can."