The uniform and helmet are the same, but the Oakland Raiders that will visit Soldier Field Sunday bear little resemblance to the team that Lamarr Houston remembers.
The Bears outside linebacker played for the Raiders from 2010-13, but the Oakland roster has changed considerably since he left the Silver and Black via free agency.
The 2015 Raiders offense is powered by second-year quarterback Derek Carr, rookie receiver Amari Cooper and third-year running back Latavius Murray.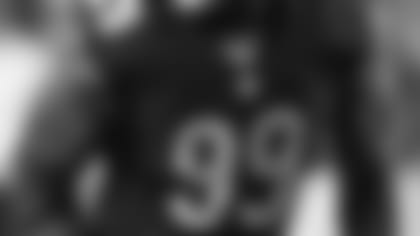 Bears outside linebacker Lamarr Houston played for the Raiders from 2010-13.


In last Sunday's 27-20 win in Cleveland, Carr passed for 314 yards with two touchdowns and a 115.9 passer rating, Cooper had eight receptions for 134 yards and Murray rushed for a career-high 139 yards and one TD on 26 carries.
"They're an explosive offense," Houston said. "They have three great young players who are carrying the offense right now, and they're winning ballgames. It's a different team than when I was there. You've got to tip your hat to them. They look like they work harder. They look like they execute a lot better than what I was used to seeing."
Off to a 2-1 start, the Raiders are in quest of their first winning season since 2002 when they lost to the Buccaneers in the Super Bowl. From 2012-14, Oakland compiled records of 3-13, 4-12 and 4-12 while winning just two of 24 road games.
With back-to-back victories over the Ravens in Oakland and the Browns in Cleveland, the Raiders can record their third straight win Sunday for the first time since November 2011 when they accomplished the feat by beating the Bears 25-20 in Oakland.
In addition to Carr, Murray and Cooper, the Raiders offense also features receiver Michael Crabtree, tight end Lee Smith and center Rodney Hudson, a 2015 free agent addition.
"I know it's only three games, but they are ranked high in almost every offensive category," said Bears defensive coordinator Vic Fangio.
"They've got a really good young quarterback who has a quick release and has good knowledge of their passing game. They've got really good receivers led by Cooper and Crabtree. They've got good tight ends. They've got speed with Smith that comes in.
"They've got a lot of pieces to their offense. It's not just Carr and Cooper. They've got a lot of good pieces and they've been able to spread the wealth around both in the running game and the passing game and they're a tough assignment right now."
Carr enters Week 4 ranked eighth in the NFL with a 102.4 passer rating, having completed 63.3 percent of his passes for 726 yards with five TDs and one interception. He's excelled in the red zone, leading the Raiders to seven touchdowns on 10 trips inside-the-20.
"He's got a quick release, he's got good targets to throw to and he's accurate," Fangio said. "Those are all the qualities you're looking for in a quarterback to succeed in the red zone. He can put the ball in tight windows that you have to down there and they have good balance down there in the scheme. He's done a nice job."
Cooper, the fourth overall pick in the draft from Alabama, leads the Raiders and all NFL rookies through three games with 20 receptions for 290 yards and one TD.
"He comes from a college program that runs similar to a pro offense so that obviously helps him," Fangio said. "He's got good football instincts and football savvy, so he knows how to play the game and adjust to things well. He's got good size, strength, speed and quickness. You put that all together and you've got a great player."
The Bears defense hopes to take another step forward Sunday after showing marked improvement in last weekend's loss to the Seahawks. The same unit that allowed five touchdowns a week early against the Cardinals permitted only one TD in Seattle.
One of only two NFL teams without a sack entering Week 3, the Bears recorded four against Seahawks quarterback Russell Wilson—two each by defensive end Jarvis Jenkins and outside linebacker Pernell McPhee.
"Some of that 'dog' started coming out," McPhee said. "That's the fun part. You could see in some of those plays we were playing with an attitude, we were playing with a swag, and all that goes to show that it's coming along. The defense is starting to play together."